Box Clever for a love of Shakespeare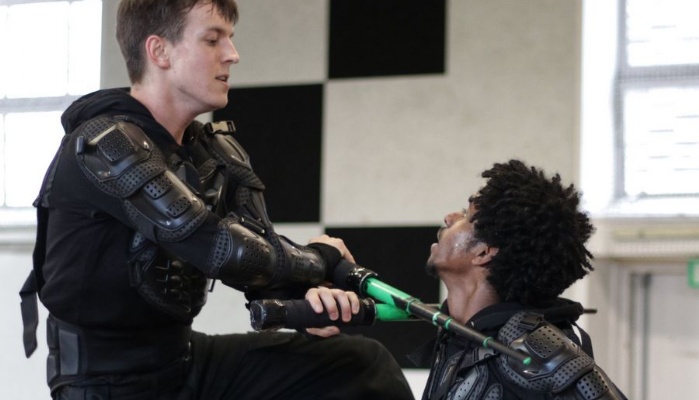 Shakespeare is far from boring, as students discovered when actors from the Box Clever Theatre Company visited our academy.
With a minimal set and only four actors, the company brought both Macbeth and Romeo and Juliet to life for Year 9 and 10, with engaging interactive workshops designed to see students engage with the works.
"After a successful visit pre-pandemic in early 2020 when they presented An Inspector Calls, I decided to book them as soon as I saw they were touring again," said Ms Buckland, Key Stage 4 Literature Leader and teacher of English and drama.
The Romeo and Juliet audience of Year 10 students were impressed by the cast and decided Shakespeare was still both relevant and appealing.
"It was different from what I expected. I thought it would be boring, but it was great! I really enjoyed it," said Alfie Marr.
"It was so impressive! I was amazed how they memorised all the lines and it made me think how much effort they must have put into preparing the performance," added Buddie Paley.
Student Dawid Okon said he had never seen any plays before the visit of Box Clever.
"This was very entertaining, very engaging and got me emotionally. I was really impressed with all their acting and the preparation they must have put into it," he said.
Mr Hussain, Raising Standards Leader for Yr 10 and a teacher of maths, said even he had preconceived ideas about Romeo and Juliet.
"It was fantastic to see how engaged our students were when watching. Having never studied the text, they were able to grasp the overview of the key concepts and are really looking forward to studying it. It was an eye-opener to how I, as a maths teacher, had a preconceived idea that it may be boring, but it was one of the most engaging performances I have seen."
Macbeth proved to be equally as popular with Year 9 and Olivia Sefton said: "I so enjoyed the play; it was really good! I liked the music and how they got the audience involved."
And Josh Day said the performance was 'amazing' and he was now thinking of drama as an option.
"I thought it would be boring, but it was so interesting and fun and entertaining," said Ugnius Antropikas.
Academy librarian Miss Robinson is now expecting a rush of visitors all wanting to borrow copies of both plays.
"It's fabulous to hear how engaged our students were watching the performances which gave them the opportunity to see an overview of these key texts as a modern adaptation whilst enjoying a live stage performance that they may not otherwise get to see," she said.
"I'm looking forward to loaning even more copies of both plays to students to help deepen their understanding of each play, and they will be pleased to know we hold plenty of copies of classic and modern adaptations of both, so there is definitely something for everyone."