Platinum Jubilee tree planting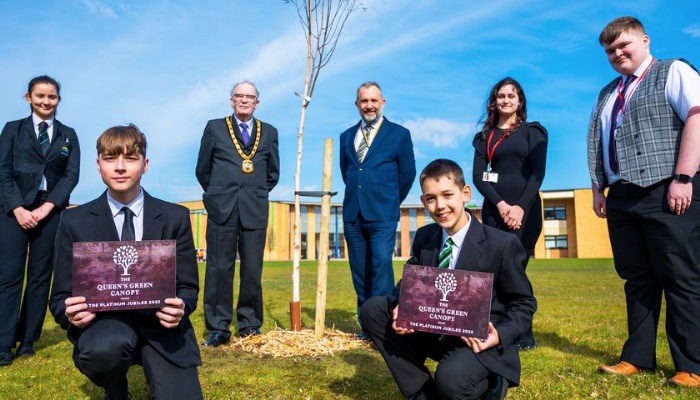 Celebrations for the Queen's Platinum Jubilee have started at our academy with a special tree planting.
Chairman of Fenland District Council Alex Miscandlon visited, and an ornamental silver birch was planted in our grounds to mark the 70th year of the Queen's reign as part of the Green Canopy initiative.
The date of the planting, March 11, was chosen as it was the 70th day in the 70th year since the Queen's accession to the throne in 1952.
Cllr Miscandlon said: "The Queen's unwavering dedication to the nation has been an inspiration to us all, so I am delighted to plant these trees to mark her Platinum Jubilee and support The Queen's Green Canopy initiative on behalf of Fenland District Council.
"The Jubilee is an opportunity to think about how each of us will pay our own tribute. Planting a tree is a simple but enduring act that will provide habitat for wildlife and be enjoyed for years to come. I would encourage as many community groups, organisations and Fenland residents as possible to join us in celebration and plant a tree for the Jubilee."
A tree was planted at each of the district's four secondary schools on the same day.
Anyone wishing to get involved in The Queen's Green Canopy is encouraged to plant trees during the tree planting season, which runs until the end of March and starts again in October, to optimise the chance of trees surviving and flourishing. Advice is available from Fenland District Council's Parks and Open Spaces team
For more information, visit www.queensgreencanopy.org where there are tips on planting trees and details of how to order an official plaque.