Reading Champions test their literary knowledge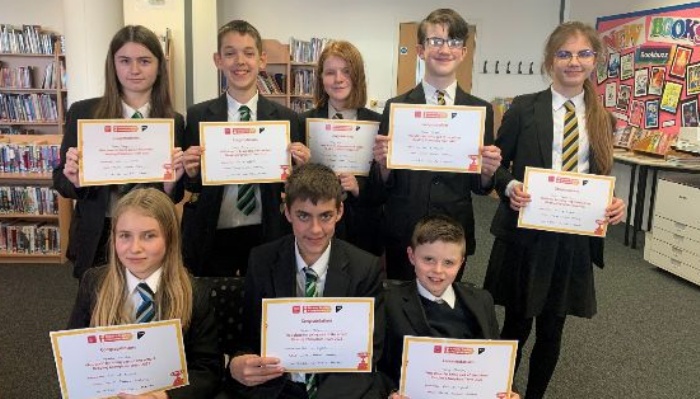 Congratulations to everyone who took part in the Reading Champions Quiz regional competition where the teams pitted their literary knowledge against that of other students.
Our teams took part in the heat earlier this month and each and every student did themselves proud during the competition.
Led by the National Literacy Trust and funded by the Author's Licensing and Collection Society, the contest is in its second year and celebrates keen young readers while championing the important role of teachers and school librarians in promoting reading for pleasure.
"I was proud of how our teams of Year 7 and 8 students worked together during the quiz, they were so enthusiastic throughout and tried hard in all rounds, each one having a different theme," said our librarian Miss Robinson.
"They gave some great answers during the quiz, which included some tricky questions. I thought the hardest round was the one where Mr Dilly acted out clues to different books! James showed some great knowledge here and answered correctly with Katherine Rundell's Rooftoppers."
The quiz, aimed at students up to the age of 14, provides a fantastic opportunity for students to enjoy testing their knowledge by competing wit other schools from their own region. The heats were held online throughout March, with a total of 26 teams in our competition, and the winning teams from each of 20 regions will go to the national finals in May.
Our teams were Miley Brennan, Julia Kwiatkowska, James Brightey and Tony Januncey along with Honey Stagg, Harry Hunter. Vytaute Kiezaite and Kieran Kurz.
We didn't make it to the finals this year, but everyone should be delighted with how they performed on the day and we are already looking forward to next year's contest.
Why don't you test yourself with the sample quiz sheet here and when you're finished, the answers can be found with this link - it's just for fun!