Taylor Crowned Master Baker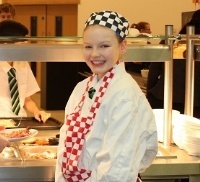 Taylor Cordell has been named the winner of the Thomas Clarkson Academy bake-off.
Taylor Cordell has been crowned the winner of the Thomas Clarkson Academy bake-off.
Ten students started the competition 12 weeks ago and have attended six baking masterclasses and been put through their paces in six baking challenges, baking shortbread, scones, tray bakes, cup cakes, pastry and bread.
Every fortnight one contestant was eliminated until just four finalists remained – Tristan Fines, Taylor Cordell, Livvy Williams (all Year 9) and Scott Simmons, Year 7.
The top 3 bakers will go on to take part in the grand final of the Great Brooke Weston bake-off against winners from other Brooke Weston Trust academies at Corby Business Academy on July 17th.
During the grand final they will take part in a whole day of challenges when they will make everything they have learned during the course of the competition to create an afternoon tea.
They will be judged by a panel of independent judges from the catering industry.
Taylor was chosen as TCA's winner for her overall performance throughout the competition.
TCA Restaurant Manager Maddy Austen, who ran the masterclasses, said: "They have all done so well and I think they stand a very good chance in the grand final. They get on very well and work well as a team."
The competition was open to students from Years 7 to 10 and during each challenge they were judged in three areas – presentation, taste and hygiene.