Students and parents visit for our Open Evening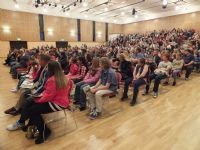 The Academy welcomed Year 6 students and their parents at our Open Evening.
The Academy welcomed Year 6 students and their parents at our Open Evening.
Students and parents were invited to come along and have a closer look at the Academy on Thursday, October 4, from 6.30pm to 8pm.
The evening began with a talk by Principal Clare Claxton in the new theatre, which was also the first time the theatre has been used. A huge number of people came along for the event and all the seats in the theatre were filled.
After the talk the visitors were invited to have a look around the Academy, either by following a map themselves or by taking a tour with students who came in to help out as our TCA tour guides.
Activities took place in all three Learning Communities covering various subjects. Visitors were shown a dance workshop in the Dance Studio and got to take part in sports activities in the Sports Hall.
Visitors were also given the chance to go up our climbing wall in Eden.
Teams including the Inclusion team, Health Support team, Transition team and Attendance team set up stands in Eden and spoke to the visitors.
Students were also invited to have a taste of some of the dishes they will be eating if they become students at the Academy in the restaurant, which served samples of various dishes throughout the evening.
Parents were asked for their feedback on the Open Evening in a questionnaire. Comments received included:
"What a fantastic school! Absolutely stunning facilities – it could become a community asset with the addition of further evening classes for adults. Brilliant!"
"Lovely. The new uniform is making a big difference. A very privileged place of learning for the children of Wisbech."
"Fabulous school! Can't believe the change."
"Very pleased with this amazing school. Hope my son will enjoy his time here."
"A very well organised evening, very calm and interesting for prospective pupils. A super environment for learning. Mrs Claxton's talk was inspiring."
"Impressed with what we have seen. Our tour guides were fantastic."
Any parents and students who could not make it to the Open Evening – and any who came and would like to see more – can come along to our Open Afternoon, which will take place on Wednesday, October 24, at 2.30pm.
To view an album of photographs from the Open Evening click here.
To view new Prospectus click on the image of it below: