Vote for Molly-Mae in national poetry competition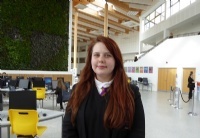 A Year 11 student is a finalist in a national poetry competition.
A Year 11 student is a finalist in a national poetry competition.
Molly-Mae Taylor's poem Scared old Man is in the running to win the Young Writers 2014 Poetry Competition for 11-18 year olds.
Her entry was selected out of more than 9,000 entries from 412 schools across the country and she is representing East Anglia.
Molly now needs our votes to lift the poetry title.
Click on this link to watch her video of the poem and to vote. The deadline for voting is the end of May.
Molly-Mae, who writes poetry in her free time and has plans to be an English Teacher said: "It feels surreal to have been selected out of all the entrants. I have had my work published before and also won some local and regional competitions, but this is a major achievement for me."
Molly Mae's poem is about homelessness and is told from the point of view of an old man living rough on the streets.
She said: "The brief for the competition was to write about a social problem that you wanted to change. I went to London and saw lots of people living on the streets. It makes you appreciate what you have but it also made me really upset about seeing people in that situation.
"I wrote the poem over the course of a couple of days, rewriting it a couple of times until I was happy with it."
As a regional finalist Molly had to create a video to go with her poem. She used friends and family to voice it and did the video editing herself.
English Teacher Lisa Lockyer said: "Molly-Mae has always excelled in English, specifically creative writing, and her empathy for others is what has helped her to achieve such an amazing piece of work."
The winner will receive an iPad and the other 11 finalists will each be given a Kindle.
Scared, Old Man
A driblet of rain screams from desolate skies,
I jumble with those, frequently passing by,
The brisk wind has come, the warmth no longer,
I clasp my stomach with pain and hunger,
The occasional man walks past on the late,
As shop-owners leave, and tug down the steel gate,
I cripple down into the gashed sleeping bag,
Ceasing my eyes, for the night-long drag,
Blue lips are freezing with the mid-December chill,
His heart stops pumping, his pulse stands still,
People still walk by; without a mumble,
The glacier ice on his hand starts to crumble,
It falls with force onto the bleak cement path,
Others watch, with vigorous joy and a laugh,
His family waiting back home,
Except the poor man, thought he was all alone,
Watching those walk past with familiar faces,
Then the cold comes, and wipes out all traces,
Abrasive terror roams Liverpool,
Every man and woman feels desperately small,
How can we walk past these lonely souls?
Where the debris collects like a Watering Hole,
The pain sets in, but we can't resist,
How can we live in a world where homelessness exists?
I stand tall for my word, but I'll never fight alone,
And nor will I stop until I fend every life a home.
Forgive me, but I'm just a scared, old man.