First match of the season for Year 10 girl's Rounders team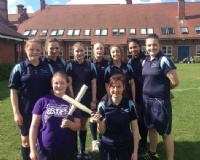 The Rounders season has started for the Year 10 girls.
The Rounders season has started for the Year 10 girls.
The team played against opponents from King Edward VII High School on Wednesday (April 29th).
Sports Teacher Amy Anderson said: There is a lot of talent in the team, and new players have joined the Club this year; this was the Kim Jones's first match.
"Highlights of the match were Sam Walker playing deep field behind second, playing a successful supporting role to Charlotte Cameron on second base. Abi Pittam was crucial at bowler and controlled the game throughout.
"When in bat, TCA showed style and consistency. Cailyn Bendall was highest points scorer, worrying the fielders every time she stepped into the batting box. Pittam, Kaya Kilby and Alicia Baghdouyan showed great talent and tactical knowledge when in bat, something we will look to build on next week at the Isle of Ely tournament.
"Player of the match, voted for by the KES players was Cailyn Bendall, a well-deserved accolade."
The final score was 14.5 to KES and 8.5 to TCA.
TCA Year 10 are back in action next Wednesday (May 6th) at Witchford Village College.