First Duke of Edinburgh Awards for students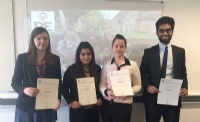 TCA's first ever cohort of Duke of Edinburgh participants have been presented with their awards.
Our current head girl Hannah Loughlin, Courtney Wakeham (Year 13) and former students Ricki Tura and Preeya Ganger were presented with their bronze certificates by Bernard Lyons from the Robert Hall Trust.
The students gained their awards after putting in lots of work towards the four sections of the programme - Volunteering, Physical, Skills and Expedition. As part of this they had to do a minimum of three months activity for each of the Volunteering, Physical and Skills sections, dedicate an additional three months on one of these three sections and plan, train for and complete a two-day (one night) Expedition.
Hannah Loughlin, who is now studying for her Silver award said: "It felt great to complete it as it did involve a lot of work.
"I learned a huge amount about teamwork and leadership skills and am enjoying putting the skills learned into practice for my Silver award."
14 TCA students are currently taking part in the acclaimed national awards scheme. There are ten Year 10 and 11 students working towards their bronze certificate and four post 16 students are hoping to gain their silver certificate.
There is a team of six staff at TCA (led by supervisors Lucy Heighton and Dan Hudson) who help run the scheme.
DofE coordinator for TCA Lucy Heighton said: "All the staff are from different departments and have a variety of experiences and skills that they bring to the programme. It's lovely to have a whole school feel to this programme.
"We aim to increase our numbers at the start of the academic year (July) to around 40 students overall.
"Our next expedition is the bronze/silver assessed expedition weekend in July. We're taking all three groups to be assessed at Rutland Water on 11th-12th."
As part of the expedition, assessment the students have to do practice expeditions. This year the students working towards their Bronze have been on a hiking and camping expedition to Yarwell Mill and the Silver team went to Thetford Forest.
Miss Heighton and Mr Hudson have also recently gained their Countryside Leader awards. As part of this they had to keep a log of twenty hikes and ten camping experiences and they are now able to lead groups in lowland countryside. Their next training will be the 'Walking Group Leader' award which will include hill and moorland and night time navigation.