Student inventor solves chip shop problem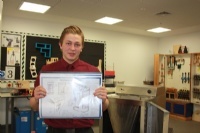 A Year 13 student has invented a revolutionary machine to extract oil from chip shop batter scraps.
A Year 13 student has invented a revolutionary machine to extract oil from chip shop batter scraps.
Thomas Norman, who works at a chip shop in Wisbech has made a machine that means that chip shops will no longer have to throw away batter bits and can now extract and recycle the excess oil.
The student has made his invention as part of his A Level Product Design course. The assessment tasked him with coming up with a design brief and then taking it through each stage to manufacture.
The creative student used his experience of working in the chip industry to identify a problem being faced by all chip shop owners.
He said: "I work in the Jolly Fryer and knew that lots of oil was being wasted by being thrown away with the batter. So I decided to come up with a solution.
The student researched the problem and then came up with four options of how the machine could extracted the oil – finally settling on an auger (screw conveyor) system.
It works by putting the scraps into a hopper which are then pushed by a tube by the auger and as they hit the sides the fat is extracted. It drips out of tube and is stored in a tray at the bottom. This liquid can then be recycled and used to cook more chips.
The resourceful student even added a heating element to the machine so that it could be used by chip shops that use beef dripping to cook their chips.
The design concept was first sketched and then Thomas used Computer-aided Design software to create a template for the machine. He used local firm Mills Stainless to laser cut the stainless steel panels and he assembled the machine himself.
Thomas said: "The electronic part gave me a headache as it was earthing but after a few attempts I got it right.
"I am really pleased with the result and I think it could be a profitable product as it cost about £600 to make and I have done some market research to establish that it could sell for £2000."
Product Design teacher Gerwyn Williams said: "Thomas has put a huge amount of work into this project and has come up with something unique."
The student has a passion for design and engineering and is currently weighing up his options about whether to apply for an apprenticeship or go to university.
In his spare time he also restores classic cars and is currently working on a Yugo Zastafa.