Sixth formers extend their qualifications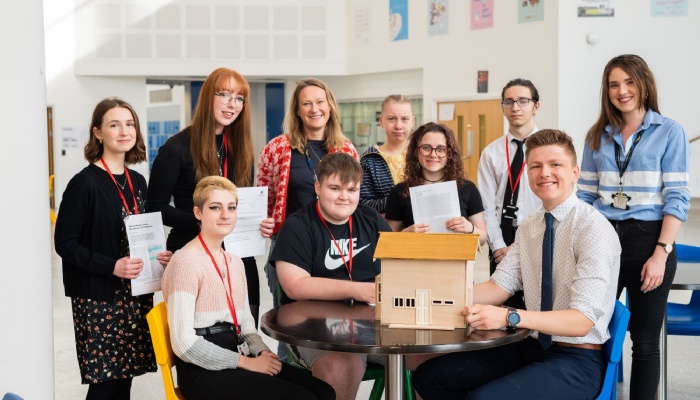 Projects on subjects as diverse as architecture, crime and Brexit were among those submitted by sixth formers who have extended their education with a great project.
For the second year running, our sixth form students have had the chance to take the Extended Project Qualification (EPQ) which is the equivalent of half an A Level, and encourages students to undertake independent research and study.
The group had to design and research their own question or proposal and the EPQ is a great way for them to demonstrate super-curricular engagement.
"We are really proud of our sixth form students who have successfully completed the qualification. They researched and wrote on a range of fascinating topics and produced thoughtful and insightful dissertations," said Miss Honour, deputy head of sixth form.
"We also had several students who used this as an opportunity to explore their creative talents, with creative writing and a model house being the final products. The students had to present their projects and they spoke confidently and passionately about their chosen topics and it was great to see their dedication and commitment to their project," she added.
Student Kacper is looking towards a career in the construction industry, but wasn't sure what to do to achieve his goal. His dad encouraged him to look at architecture and he was hooked.
"I decided to learn about Finnish architecture and create a model of a house. I know, as an architect, creating models is part of the career and I learnt how to properly work with wood and how to be as precise as possible," he said.
Evie was drawn to politics and said: "'I did my EPQ on why Brexit happened and I chose this topic because politics has always been an interest that I have had and in particular Brexit, especially seeing as the impacts of it are something my generation will face.
"When doing this, I was able to write in a balanced way, developing ideas against my personal views along with finding new things out about Brexit. I have also learned the key skills on writing a dissertation that I will need when I go to university.'
It was the world of crime that saw Emily research the reasons why innocent people admit to committing an offence. She is interested in forensics and criminology and was surprised at how people took decisions to admit crimes they hadn't committed.
"The implications this has on us as individuals, as well as society and the criminal justice system could be profound," she said.