Year 7 and 8 students go to the polls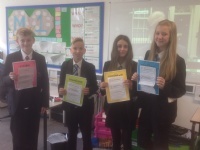 Students staged their own mock elections last week as election fever gripped the classrooms.
Every stage of an election from policy development, campaigning to setting up a polling station and running a vote count was taken care by the Year 7 and 8 students who mimicked the national activity.
Teacher Vicky Boldero said: "The schools seemed to develop a buzz on the 7th and 8th of May with conversations run mostly around the election between both students and staff. It was wonderful to see how closely the students followed the developments and how eager they were to talk to staff about their thoughts on the outcome."
The students made up their own parties, devising policies and giving speeches to their fellow students.
They then looked at the actual party leaders in the general election and conducted class votes on who they thought would win based on a series of televised clips.