Carnegie Book Club invites our students to talk literature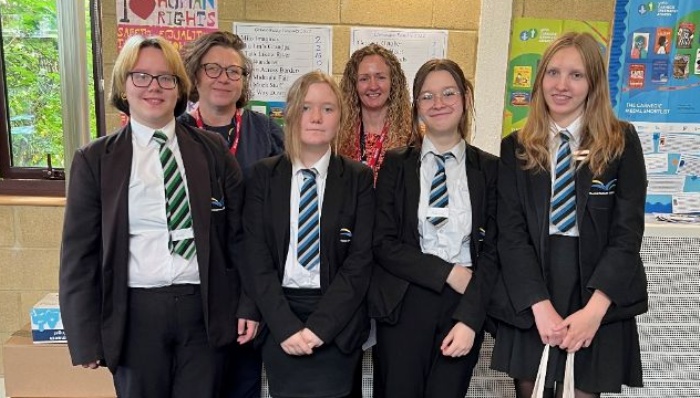 The world of literature was brought to life by animated discussions when our students were invited to attend a special 'shadowing' event by the Carnegie Book Club.
Hosted by the Brooke Weston Academy in Corby earlier this month, the Yoto Carnegie and Kate Greenaway Medal date saw students join forces to discuss this year's awards shortlist, take part in a quiz and give a presentation to more than 50 students and staff.
One of our students, Marija, also won a prize for best 'book pusher' with her heartfelt argument for the title Guard Your Heart.
"The awards are a fantastic reading for pleasure initiative and the event itself was a brilliant opportunity for some of the Carnegie Book Club to visit another school within our trust. They looked at the merits of each book, talked about themes and characters and discussed why each made the shortlist," said our librarian Miss Robinson.
Year 9 Student Anna said: "I believe this trip was a great experience and opportunity to participate in activities surrounding literature and books, especially exploring the plot of different books on the shortlist."
The awards are unique as they are judged solely by librarians and include a shadowers' award when students vote for their favourite title in each category, so there is a judged winner and a shadowers' choice winner.
The students voted for their favourite Kate Greenaway title, which was I Talk Like a River, while The Crossing, by Manjeet Mann, was their favourite for the Carnegie title.
"Going away for the day and talking with other teens who are passionate about literature was a refreshing and fun experience," said Marija.
The judges winning titles were announced three days after the students met, and the Yoto Carnegie Medal went to Katya Balen for her book October, October while the Yoto Kate Greenaway Medal was won by Long Way Down, Danica Novgorodoff's illustrated graphic edition of Jason Reynold's verse novel.
The Shadowers' Choice also went to October, October and The Midnight Fair, illustrated by Mariachiara Di Giorgio for the Yoto Greenaway award.