Art Bytes gallery showcase for winning work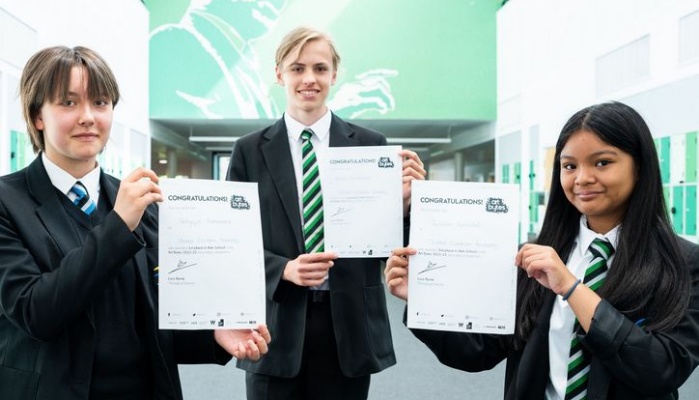 The artistic talents of our students have been recognised in a national competition.
A group of seven Year 9 pupils took part in the Art Bytes initiative and were free to use any resources to help work on their creations both at school and at home, while not being constrained by the pressure of gradings or expectations.
A first, second and third place was awarded to three students after a rigorous three-stage judging process of our entries. There was also a regional title for one of the group, and our academy was also the winning regional school.
"Every entry was full of creativity and passion, showing the talent our students have. I believe it is so important to give students their own creative freedom. Art is a vital form of self-expression that is so important for the development of our young people," said Miss Armstrong, Teacher of Fine Art.
Young artist Patrycja won first place with Crimson Anger (bottom picture), second went to Benas, who created Willem Dafoe (centre) and third place was taken by Julienne with her Untitled. Patrycja also won the Secondary Regional title and was runner-up in the national competition for her piece.
The three winning artworks have been on show at the Wysing Arts Centre, Cambridge, and presentations were made during a special event held for the East of England.
"Patrycja did not know that she was the secondary regional winner for the East of England and none of us knew she was the secondary national runner-up, so there were lots of surprises during the celebration event. We are so proud of her and the other young artists who entered the competition and we cannot wait to see how their creativity and talent grows," said Miss Armstrong.
ArtBytes is a national programme designed to encourage young artists and winning art is exhibited using online galleries as well as being part of the celebration event. The programme uses both art and virtual technology to help students engage with the subject and voting for winning pieces is carried out online.
The virtual gallery can be found here https://artbytes.co.uk/virtual-gallery/igallery.php?year=9