HGV surprise for Simon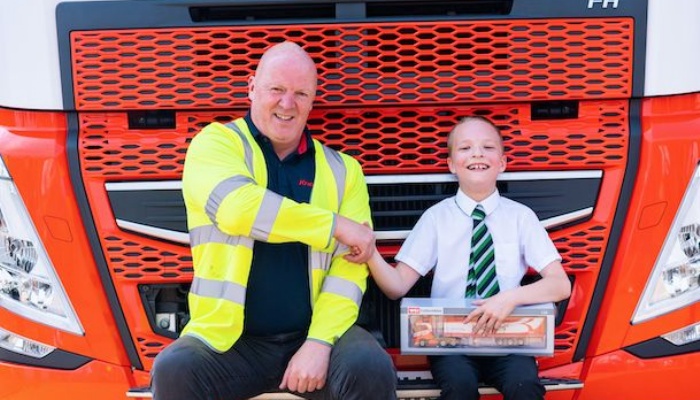 The end of the school year was made even more special for one of our students when an enormous visitor arrived to surprise him and his friends.
During a recent careers event, Cambridgeshire-based Knowles transport company proved to be a hit, specially with a young man who loves all things lorry.
Simon was so enthusiastic that the company made secret plans to return at the end of term so he and his friends could have a close-up look at one of the company's enormous rigs.
Not only did almost £200,000 of lorry and trailer unit arrive, but Simon was also presented with his own special collectors' edition model, and he was delighted.
Driver trainer Dean Hill gave each student a guided tour of the cab, complete with a blast on the horn, before showing them the cavernous trailer - both the tractor unit and its trailer were brand new and came in at a cost of £170,000.
But there wasn't much Dean could tell Simon about the Volvo rig, as the academy student has an incredible knowledge of HGVs and immediately knew which model of Volvo he was looking at.
"It's the colour of the grill. The new ones are orange," he said.
Principal Mr Scott said the visit had been an amazing experience for the students involved, and he thanked the Knowles' team for taking the time to return.
"We were delighted to help and it was great to see the children having such a good time," said Dean.
Knowles was founded in 1932 and now has operation centres in March and Wisbech.