Inspiring results for our A Level students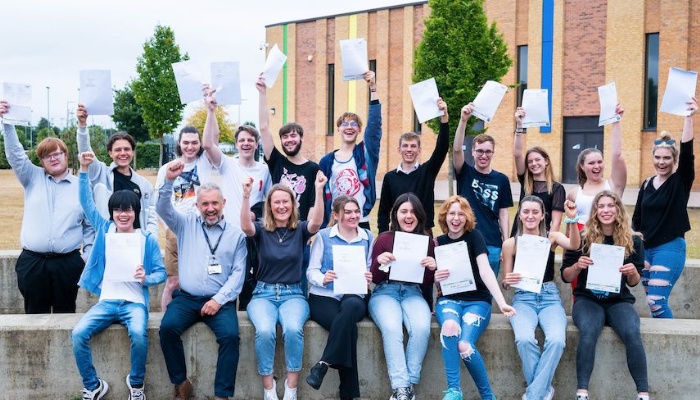 Our head of sixth form says she is 'inspired' by our students who collected an impressive set of A Level results this morning.
With pupils heading to a raft of universities around the country to study everything from maths to law and drama, there were celebrations at our academy from 9am.
Alison Hornby, Head of sixth form said: "I have personally been inspired by this cohort of students and the spirit they have shown over the past two years. Not only have they demonstrated academic success, but also empathy, creativity and a positive mindset through a challenging time.
"They have collaborated with each other and shown an impressive team mentality which I'm sure will serve them well in their future lives. I am very excited to see what the future holds for these fantastic young people."
The cohort had an interrupted education thanks to the pandemic and is the first to sit external examinations for two years.
Principal Mr Scott said: "I am delighted with just how well this cohort of young people have done in their A-Levels. In the face of huge challenges in the last few years, they have shown phenomenal grit and determination. This has paid off with the many fabulous opportunities that await them as they go on to study a wide range of degrees and apprenticeships.
"I would like to say a huge thank you to our brilliant staff for the support they have shown our students, always striving to give them the best possible start in life. This year we have focused on raising our standards across the school and it has been a pleasure to see our students exceeding these expectations and growing into confident, ambitious young people."
Among those celebrating this morning was James Youngs, 18 who is heading to Warwick University to study maths after he achieved three A*s in maths, further maths and computer sciences.
James, of Wisbech, said he wasn't entirely sure on his future career path but was looking forward to becoming an undergraduate.
"I was a little surprised when I saw my results, although I worked hard," he said.
Physics teacher Mr Bliss was delighted when two students secured their university places to continue studying the subject.
Rhys Morgan, 18, is heading to York to read theoretical physics after gaining Bs in maths and physics and C in computer studies.
"I was nervous when I opened my results, but I got the place I wanted," he said.
Kris Karkalas, 18, is going to Sheffield University to read physics and astro physics after achieving an A in maths, B in physics and C in biology.
Kris, of Leverington, is aiming for a career in engineering and said he was 'very happy' with his results.
There were shouts of delight from Edward Phoon, of Friday Bridge, who is going to Brunel University to study creative writing.
"Writing is my passion and I am very happy. I feel over the top with joy," he said on achieving A*s in history and sociology and an A in English
Evelyn Anderson was another celebrating success as her results means she can take up her place at York University to read maths and philosophy.
She joined the sixth form when her family moved to the area from Northamptonshire and said she had enjoyed her time at the academy.
"I have chosen a course that looks interesting and don't have a plan beyond that yet," she said.
Andrians Parfenovics, 18, and Vladislav Kovakuk, 19, both achieved great results while having English as a second language.
Andrians achieved A*s in psychology and Russian, A in English and is heading to the University of Manchester for ready psychology.
"I aim to get a doctorate," he said.
He moved to the UK ten years ago and said he had a brilliant time at the sixth form.
Vladislav, achieved A* in Russian, A in maths, Bs in further maths and psychology and he is going to King's College to read psychology.
He arrived in the UK from Lithuania in 2018 and had no English at the time.
"I had literally nothing - English takes a lot of practice," he said.
Notable successes also included:
Aleks Strychala who received one A*, two As and an extended project B and is continuing his studies and will be reading law.
"I was speechless when I opened the envelope," he said.
"The school has been very supportive and we have a beautiful environment to work in. I have enjoyed it," added Aleks, who has ambitions to be a solicitor. He arrived from Poland ten years ago and said he was looking forward to university.
Jennifer Ford, 19, will be heading to Royal Holloway to read psychology after receiving an A* in the subject, an A in religious studies and a B in English literature.
Emma Cottingham, 18, achieved an A and two Bs and will be studying Drama at the University of Northampton.
With ambitions to become an actor, Emma has been in academy productions and is also a member of local amateur dramatics group Leada.
"Sixth form was amazing, the teachers were great and helped me grow in confidence," she said.
Elyssia Nurse who achieved one A, one Distinction* and a C and will continue her studies at Anglian Ruskin University.