Fantastic results for our GCSE students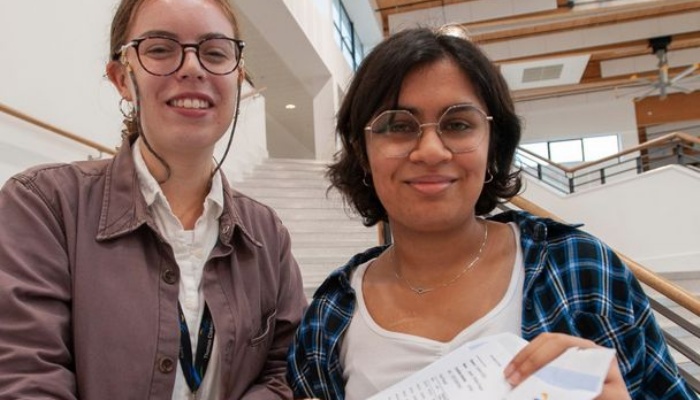 A student who spoke no English when she arrived at our academy two years ago is among those celebrating today as we reveal our best ever GCSE results.
The academy was buzzing when students returned to collect their all-important envelopes containing the results of their exams after completing the first uninterrupted school year since they were in Year 8.
"I am phenomenally proud of all our Year 11 students today, and the fantastic exam results they have received. Since the start of the pandemic this year group has shown remarkable perseverance, diligence and dedication to their studies despite the significant disruption to their learning," said Principal Richard Scott.
"The results our students have achieved are an absolute credit to them, our teachers and the whole school community. The hard work and determination of the students and the unwavering support and care that has been shown by our staff to consistently deliver high quality learning has clearly paid off, and is reflected in the results, which are our best ever.
"Our class of 2022 should be extremely proud of their achievements, and we celebrate with them and their families today. We wish all of our students every success with their next steps and look forward to welcoming many of these students back to our Sixth Form from September."
Jasleen Kaur moved to the UK in Year 10 and had to learn English alongside her GCSE subjects and demonstrated phenomenal progress in her comprehension in an incredibly short space of time. Her grades included two 9s, four 8s, three 7s and a distinction.
The 16-year-old arrived from Spain and had to learn the new language quickly. She was delighted with her results when she opened her envelope at the academy.
"I am very happy, it's better than I wished," she said.
Jasleen will move into the academy Sixth Form to study maths, biology and chemistry with the long-term career aim of working in biochemistry.
Teacher Miss West was one of her form tutors and said Jasleen had worked 'incredibly hard' at the academy and deserved huge praise for her achievements, considering Spanish was her first language and two years ago she had no English
Also celebrating were top achievers Sofia Reeves, with seven 9s and two 8s; Sophie Tjurina with six 9s, two 8s, two Distinction*s and a six. They were joined by Aukse Janusauskaite with three 9s, three 8s and three 7s; Gvido Malinouskis who achieved one 9, four 8s, one Distinction*, two 7s, one six and a Merit while Skaiste Tlembetovaite achieved one 9, four 8s, four 7s and a Merit.
Mr Cronin, Raising Standards Leader for Year 11, said: "It has been an absolute privilege to work with this cohort of students over the past four years, culminating in watching them open their GCSE results today. They have been on such a journey during their time at TCA, with this being the first uninterrupted school year since Year 8 and starting Year 11 not knowing if summer exams would be taking place and if so in what format.
"It has been fantastic to see these students reaping the rewards of the hard work they have put into their studies over the years. I am so excited to see what the future holds for these young people."
Student Aukse Janusauskaite, 16, has her sights firmly set on becoming a lawyer after achieving three 9s, three 8s and three 7s in her GCSEs.
She will be staying with us to study A Levels in chemistry, English literature and history before heading to university to read law.
"I am really happy with my results," she said.
Reicel Bieksaite is also remaining at Thomas Clarkson where she will be taking A Levels in psychology, biology and another, yet to be decided, science.
The 16-year-old has ambitions of reading bio-technology at university and was delighted with her results of one 9, one 7, two 6s, three 5s and a four.
Students who made significant progression in their studies also included; Monika Sabaliauskaite with one 9, one Distinction*, one 8, three 7s and four 6s; Owen Craine achieved one 8, one Distinction, six 7s and a 6 along with Kiah Jones who was awarded two 8s, four 7s and three 6s.
There were also a number of students who overcame personal barriers to achieve great results with their exams.
Scarlett Marr and Sophie O'Neill both had personal challenges but showed significant resilience and have both been accepted into the sixth form.
Artjoms Vasiljevs struggled to fully engage with his studies prior to Year 11, but he became determined to improve and exceeded all expectations. His grades include a 9, two 7s, a Distinction, two 6s, one 5 and a Merit.