Summer cycling success for William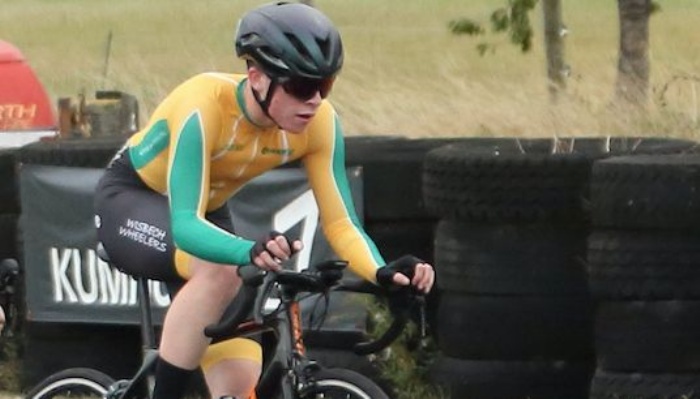 The summer holiday was no time to rest for one of our students who took podium places in two cycling road races.
While many of us were celebrating the sporting success of the Lionesses in the Euros and the home nations during the Commonwealth Games, William Horspool was enjoying success of his own.
A member of Wisbech Wheelers and keen racing cyclist since the age of nine, William has been breaking his personal bests again this year.
Our Year 11 student started racing at the age of nine in the local Go Ride races before joining the cycling club he rides out with on Sunday mornings.
Over the break William took third place in the U16 races at Leicester Cycle Circuit on one of the summer's hottest days. He repeated the placing at Darley Moor Motorcycle Circuit in Derbyshire.
His success comes after completing his first 10 mile Time Trial in Spalding at the age of 12 with a time of 27m 54s. To reach greater heights, William started training with the British Cycling Development Sessions for Road Racing - all two hour sessions on a closed road circuit.
Moving on to a 25 mile TT in June 2021, he was 13 and completed the distance in 1hr 4mins and 37 seconds. Around this time he took part in his first ever National Youth Circuit Series race at Loughborough where he finished in 36th from a field of 58. He followed this up at Scarborough, on Oliver's Mount, and took 46th spot in a field of 67 riders.
William's 2022 season started as a first year U16 rider in the Eastern League Road Race series with events mainly based at Redbridge Cycle Circuit and in Colchester, on a closed circuit track where he has enjoyed some top ten finishes.
With the National Youth Championships in Scarborough, he finished a very creditable 70 from a field of 110 in his age group. He qualified for the National Youth 10TT Championship final once again.
And his local club competitions haven't missed out this year, as William achieved a personal best in both 10 and 25-mile time trials at 23:25 and 1:01:59 respectively.