TCA in the running for national education study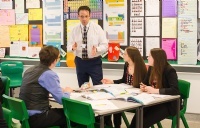 The Academy could be taking part in a pioneering national education study.
The Academy could be taking part in a pioneering national education study.
We are through to the final selection stages of the Embedding Formative Assessment research project, which is being led by one of the country's top education experts.
If selected as one of the schools to take part, it will mean that teachers will be given training on new assessment methods with the aim of improving student achievement.
Principal Clare Claxton said: "This is great news for TCA as it fits entirely with our improvement priorities for the next couple of years and will be led by one of the country's most respected educationalists."
The study will evaluate the Embedding Formative Assessment teaching tool, which has been used successfully by many schools for a number of years. The EFA's aim is to improve teaching standards and pupil achievement by looking at the ways teachers feedback and assess students work.
Teacher Vicky Garment, who will be the lead member of staff for the project, said: "Dylan Williams, who is leading the project, is very respected in the teaching world and it would be very beneficial to the school if we were chosen to take part.
"It will have a positive impact for students as they will be very clear on how well they are doing at all stages of their study and be given direction on how to achieve their full potential."
A letter is being sent home to parents explaining the process. Parents should only respond if they DO NOT wish for their child to be part of the initiative.
The academy will find out in coming weeks if we have been selected to take part.