Live music event goes down a storm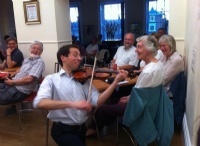 More than one hundred people turned out to listen to our students perform at a live concert.
The TCA Strings group and the Wisbech Community Choir performed alongside violinist and TCA teacher Jacob Keet at Octavia View Café's popular After Hours Live event on Friday, June 5th.
The event helped raise £125 for Mr Keet's charitable organisation My Friend Paul, which supports 11 orphans in Africa.
Mr Keet said: "The charitable organisation was established in 2013 following my time working in a Kenyan school for two years. During that time I became friends with a Kenyan pastor, Paul. He had taken in children since 2007 who had been orphaned by reasons ranging from HIV to the post-election violence in Kenya in 2007. In total, the family looks after 14 children (11 orphans and three of their own). We send £200 every month to help with the cost of food and school fees, with extra sums at certain points in the year for major costs (health bills or house rent usually)."
The next two months are busy for our musicians with performances in the communiyt (at the Macmillian and Hudson Centre and the Langley Day Centre) as well as a Music Marathon on June 26th (more details to follow). On July 15th our student musicians also collaborate with students from across the Brooke Weston Trust schools in a concert at a theatre in Corby.