Meet our new CEIAG Ambassador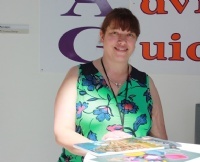 Vicky Read has been appointed as our new CEIAG Ambassador.
Vicky Read has been appointed as our new CEIAG Ambassador.
Mrs Read has a huge amount of experience in both the business world and the public sector, which makes her well placed to help our students on the path to their chosen career or further education success.
Her role involves students of all years, from building profiles in Years 7 and 8, right through the options process in Year 8 and onto further education, work or apprenticeship choices after Years 11 and 13.
Mrs Read, said: "No matter what year group students are in, they should come and have a chat and look at the resources that we have available. We have a careers and occupations bank where students can find out about a range of different jobs and prospects on offer.
"A student may want to work in the medical field and we can show them all the different jobs within the sector. We can also help with different entry routes as there are many ways to work towards and secure a position in the area that you want to pursue.
"The more informed students are, then the better choices they can make and we really want them to make use of the CEIAG resource on offer.
"Even for those students who may not know which career route they want to pursue should come to see us as it is important to opt for subjects that give a balance and keep your options open.
"Students are welcome to just drop by the desk or can make an appointment for a longer discussion."
Mrs Read worked for many years in the justice sector and has also run her own consultancy business, working with large multinational companies. She also has significant experience in mentoring, having supported students and professionals at all levels (right up to PHD).