Coaching qualification for gymnast Maisie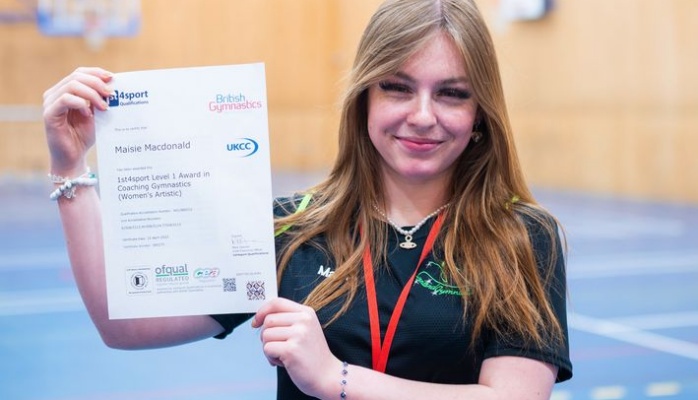 A burning ambition to share a sporting passion with others has seen one of our students achieve a coaching qualification after winning a regional gold in gymnastics.
Maisie Macdonald started her sport at just five-years-old, fell in love with it and began to perform competitively while training with three-hour sessions three times a week so she could perfect her skills and keep in top shape.
"I competed and represented my club, but also the county and took part in lots of county competitions which had a high calibre of competitors.
"My best achievement was in 2019 when I became the Regional Vault Champion and was the first person from the Fenland Gymnastics Academy to win a gold at the regionals. I won the club champion awards for my outstanding achievement which I was immensely proud of," she said.
But the arrival of the pandemic and not being able to train with others meant Maisie, in Year 13, lost the passion that had driven her to continue to compete.
"I still wanted to be part of the club and became a Young Leader. Every Friday night I helped with two groups of recreational gymnasts. You help coach and train alongside a fully-trained coach and I instantly realised this is what I wanted to be," she said.
"The opportunity arose at the gym for a Level 1 Gymnastics Coaching Course. Due to my dedication to the club, they offered to pay for the course which I was so appreciative of."
The course involved four-hour Zoom calls with examiners and tutors after school, and Maisie had to plan and deliver sessions to her students at the club. There was also online work and a logbook to complete with different skills including warm-ups and cool-downs.
"I put a lot of hard work into this which was also hard alongside studying for my A levels - but it paid off. I received an email to confirm that I had passed my Level 1 Coaching exam and I was buzzing," she said.
Maisie is aiming to study Sports Coaching at Leeds Beckett University to pursue her dream of becoming a full-time coach.