Athletics success in Mini Meets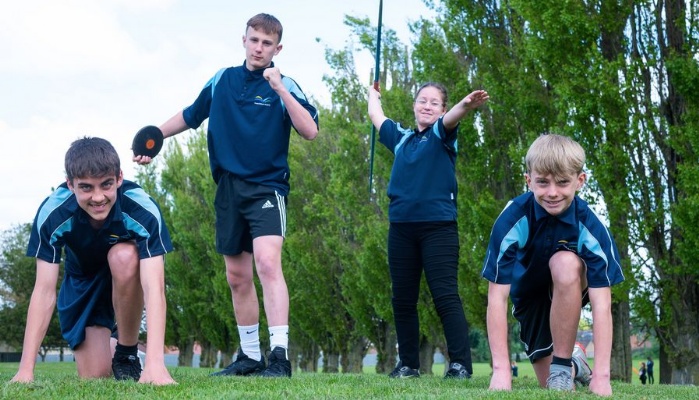 Athletics was the name of the game when we hosted a successful Mini Meet for Year 8 and Year 10.
Schools were invited to send students at the end of April to compete in track and field events including the javelin, discus, long jump, 100m, 300m and 1,500m.
Our students performed exceptionally well and new school records were set in three events. Max T broke the Yr 8 discus record with an impressive throw of 26.3m - 80cm further than the previous record.
Kacey S, already the Yr 7 record holder, threw a Yr 8 javelin record with 10.74m, just 4cm further than the previous record.
Harry S ran the Yr8 1,500m in 6 minutes and 6 seconds, more than half-a-minute faster than the previous record.
Participating students were cheered on by both their peers and teachers who praised their efforts and achievements.
"The event was a great opportunity for our students to meet and interact with other young athletes from different schools. Everyone who took part should be very proud of how they conducted themselves," said Miss Anderson, Second in PE.
A second Mini-Meet was held under the banner of Isle of Ely and hosted by Cromwell Community College, Chatteris, on May 3, for Years 7 and 9.
There was a raft of new school records: Oliver E Yr 9 boys 1,500m, Grace P Yr 7 girls 1,500m, Oli D Yr 7 boys, 1,500m, Tallulah C Yr 7 girls 300m, Deborah A Yr 9 girls 100m and Yr 9 girls high jump, Kajus V Year 9 boys 100m, Sofia D Yr 7 girls 100m and high jump.
Results from the meeting: Oli D 3rd in Yr 9 boys 1,500m and 2nd in Yr 7 boys high jump; Tallulah C 1st in Yr 7 girls 300m; Hunter M 2nd in Yr 7 boys 300m; Gustavo C 3rd Yr 7 boys 300m; Kajus V 1st Yr 9 boys 100m; Jakub S 1st Yr 7 boys 100m; Sofia D 1st Yr 7 girls 100m; Oliver E 3rd Yr 9 javelin; Jayden C 3rd Yr 7 boys javelin; Romario W 1st Yr 7 boys long jump; Kajus V 1st long jump Yr 9 boys; Matthew S 1st Yr 9 boys high jump and Deborah A 2nd Yr 9 girls high jump.
If anyone would like to join an athletics club there is the West Norfolk Athletics Club at www.westnorfolkac.co.uk or email info@westnorfolkac.co.uk and there is also a club in March, see www.marchac.co.uk
There is a school athletics club for students to join and sign-up is via the eduweb link.