Firefighters educate students about water safety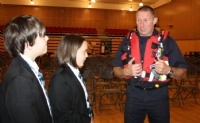 Wisbech firefighters gave a talk to our Year 7s today (June 18th) as part of their new water safety campaign.
The #RememberRony campaign was launched at the end of May in memory of 15-year-old schoolboy Rony John who drowned in the River Ouse last year.
Every school in Cambridgeshire will be visited by firecrews as part of the education safety drive and Wisbech firefighter Kevin Cherry gave a talk to students about the dangers of jumping into the county's water ways.
Group Commander Chris Parker, Head of Community Fire Safety at Cambridgeshire Fire and Rescue Service (CFRS), said: "What happened last year to Rony John was heart-breaking and we want this education campaign to be a lasting legacy so that some good can evolve from his tragic death.
"We have pledged to deliver water safety education at key stage two and three to every school in Cambridgeshire to educate young people about the risks of jumping in and swimming in our county's waterways.
"We will be asking young people to pledge their support on social media using #RememberRony and we hope that when young people are standing on the water's edge, thinking about jumping in to the enticing water, that they stop for a moment, and remember what happened to Rony."
Student Megan Woods said: "It was a really interesting talk and has definitely made me realise the dangers."
In the past five years there have been 16 deaths in Cambridgeshire's waterways at water rescue incidents attended by the fire service. At the 81 water rescues CFRS attended during that time, a further 32 people were rescued by fire crews - luckily without the victims incurring any injuries.