From punk to punishment - the EPQ has it all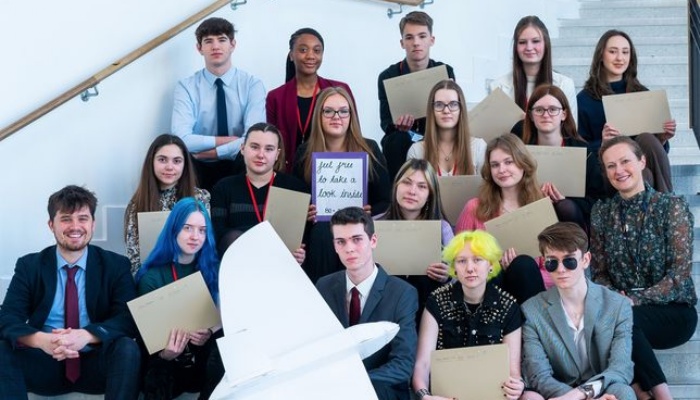 Topics ranging from the punk movement to capital punishment have been researched by a group of our students working to extend their education.
This is the third year our sixth formers have had the chance to take the Extended Project Qualification (EPQ) which is the equivalent of half an A level and encourages students to embark on independent study and research.
Self-proclaimed punk Phoebe Sheldrake-Field felt there was only one topic she would want to focus on.
"Being a punk, I wanted to analyse the punk lifestyle and how it presents itself in different countries. The lack of knowledge surrounding punk culture in the media was one of my main inspirations for wanting to complete this project. I feel punk should be recognised and respected, which I hope to have achieved through my dissertation," she said.
Another student, Gabriele Petrauskaite, is equally as passionate about business management and hopes to study the subject at university.
"A business marketing strategy was an asset to my understanding of more about my favourite marketing strategy. My interest in the field made my project extremely enjoyable; this will benefit me in the future," she said.
"We have been overwhelmed by the impressive amount of work this year's EPQ students have undertaken," said Miss Hornby, Head of Sixth Form.
"Each year the students seem to be more creative and dedicated to this qualification." she added.
Student Thomas Willatt has always been interested in creating and design, and based his EPQ around the concept of biomimicry 'due to its potential to solve some of the world's most complex problems.'
With an eye to the future and ambitions to be an aerospace engineer, Thomas said: "I found the project allowed me to gain new skills, such as prototyping, which will be very handy in the future."
Biomimicry sees nature as a model and imitates or uses nature's models for designs or processes with the aim of solving human problems. For example; climbing pads able to support human weight are a mimic of the biomechanics of gecko feet.
The EPQ is taken alongside A levels and students can choose their own topic which can be in the form of an essay or report and can equate to between eight and 28 points for UCAS, the Universities and Colleges Admissions Service.
Many universities look on the qualification as a good grounding with many of the skills that are needed to complete an EPQ are needed for university study.