Big-hearted students fundraise for cancer charity as Gaby returns to the classroom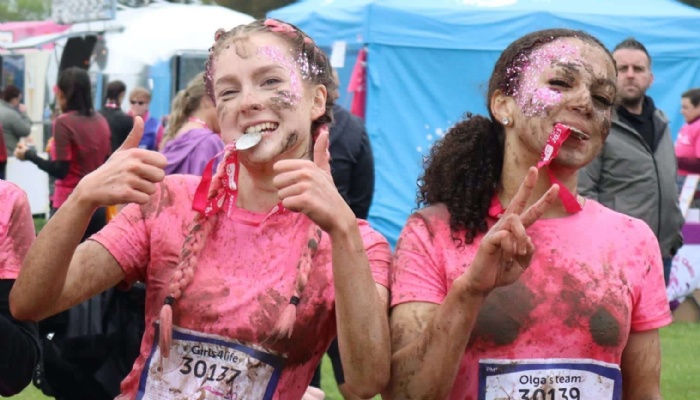 Two intrepid students braved the cold mud to take part in a special 5k run to raise both awareness and funds for a cancer charity close to their hearts.
The event was a major milestone for one of them, as this time last year Gaby Maurice was facing a tough fight of her own after being diagnosed with cancer in November 2021. She faced major surgery and a variety of treatments at different hospitals and is now back in the classroom.
She was joined for the run by her best friend Teni Omiyale and the pair took part in a Muddy 5k for Cancer Research held at the Norfolk Showground near Norwich. Gaby's mum Olga also took part, and there are now plans for another event at our academy later this year.
"It was a really good event, and we got absolutely covered in mud, and it was cold, but it was great," said Gaby.
Teni said she had 'face-planted' while crawling under a cargo net and ended-up 'chewing mud,' but it didn't prevent her from crossing the finishing line with Gaby. The course included a range of obstacles, and even Space Hoppers for competitors to deal with.
"It was brilliant, but I was so cold," said Teni, whose family has also been affected by cancer.
Gaby is currently using 'maintenance' chemotherapy, which means a tablet every day and close monitoring. She underwent a 14-hour operation at Addenbrooke's Hospital, Cambridge, and Proton Beam Therapy at Manchester's Christie Hospital during her treatment.
The cancer was diagnosed after a small lump on her cheek grew rapidly and she underwent a barrage of tests followed by immediate chemotherapy which left her very unwell and unable to eat.
Her mum gave-up working to care for her and Gaby bravely shaved her head to donate her hair to other cancer patients. Our academy also held fundraising events to help with the additional costs that Gaby's family faced as a result of her diagnosis and treatment.
Now the two friends in Year 10 want to help organise a Race for Life at the academy later this year, possibly even a colour run, where competitors are covered in different colour powders at different points on the course.
And their plan is being supported by Miss Anderson, Second in PE, who said she was looking forward to working with both students to ensure the event raised both awareness and money for the charity.
"We have held Race For Life here before, but it had to stop with the pandemic and last year was our first one back. It would be nice to host another later this year with the help of Gaby and Teni," she said.
"I really want people to be aware, to look out for symptoms and not ignore them. At first, everyone thought the lump on my cheek was nothing too serious - but my mum was worried and kept on until we found out what it was," said Gaby.
Gaby is working towards a career of working with young people who face a similar diagnosis, and she wants to help them come to terms with what is happening. And Teni is also aiming for a similar role in the future.
Our academy has often held a Race for Life, but last year's was the first since the pandemic and was all the more special because money was being raised both for Gaby and for Cancer Research.