Celebrating our problem solvers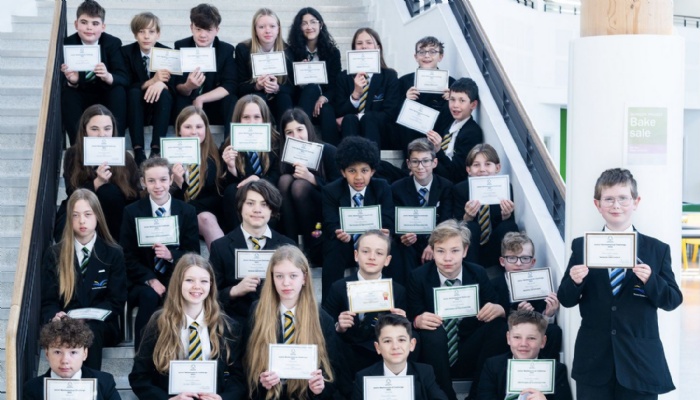 A group of more than 40 students had their maths skills rewarded in a junior challenge - and we are celebrating unprecedented success.
The Yr7 and Yr8 pupils took part in the national event which did not allow calculators or 'measuring instruments' to help in answering 25 questions, increasing in difficulty, and within just an hour.
As a result, four of our competitors have been invited to take part in the Junior Kangaroo after the holiday and face more tough questions in a fixed time. The Kangaroo is by invitation only, and will take place on June 14.
"We are celebrating this year's success in this challenge, it is a testament to the resilience and dedication of the participants as well as their competitive spirit," said Mrs Stevenson, maths teacher and numeracy co-ordinator.
"We also wish our four Kangaroo students the very best. We are really proud of them all," she added.
During the challenge, the group of 60 students had to tackle a range of problems which tested their mathematical reasoning, precision of thought and fluency of concepts and calculations.
Here are just three - see how you get on!
1) What is the value of 3202-2023?
821 B)1001 C)1179 D)1221 E)1279
2) What is the difference between the largest two-digit multiple of 2 and the smallest three-digit multiple of 3?
5 B) 4 C) 3 D) 2 E) 1
3) The record for travelling 100m on a skateboard by a dog is 19.65 seconds. This was achieved by Jumpy in 2013. What was Jumpy's approximate average speed?
0.3m/s B) 0.5m/s C) 2m/s D)2.5m/s E) 5m/s
The student results were:
Year 7
Hugas B (gold), Michael K (gold), River A (silver), Jake C (silver), Ollie D (silver), Itanas G (silver), Andrei I (silver), Gabija R (silver), Jakub S (silver), Abi T (silver), Meriam B (bronze), Fletcher C (bronze), Toby F (bronze), Kristaps G (bronze), Max H (bronze), Majus K (bronze), Raivo M (bronze), Emilia M (bronze), Aiden S (bronze), ALfie S (bronze), Kalina T (bronze).
Year 8
David L (gold), Alfie B (silver), Emilija B (silver), Leah F (silver), Oscar L (silver), Wiktoria R (silver), Max S (silver), Callum T (silver), Adaeze A (bronze), Kamil B (bronze), Emma DF (bronze), Neida J (bronze), Enrika K (bronze), Kieran K (bronze), Fred O (bronze), Edilija R (bronze), Adrian R (bronze), Harry S (bronze), Beth T (bronze), Lia T (bronze), Toby W (bronze), Szymon W (bronze) and Issy W (bronze).