King team is sporting royalty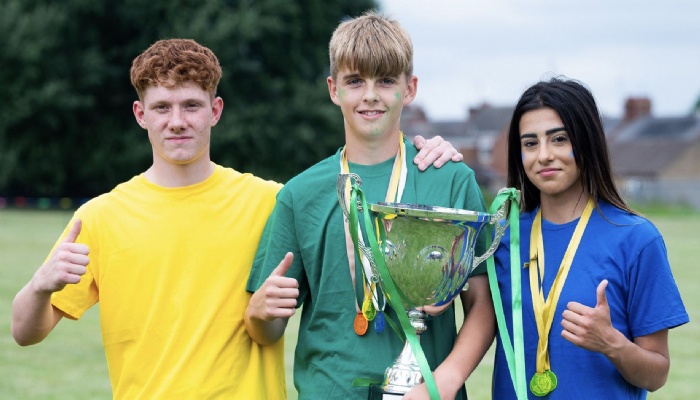 This year's Sports Day was the first time we have held a full event for several years - and it was one of the best ever.
All the students took part in athletics or inter-house competitions and the trophy was presented at the end of the day to King house captain Brandon.
"We ran a smoothie bike competition, face painting and the whole school watched the final session of the relays. There was a lovely atmosphere," said head of sport Mr Hooper.
Picture gallery here
A host of school records were broken during the course of the day, huge congratulations to:
9G 300m – Brooke Scott
9G Shot Put – Maddie Edwards
9B Long Jump – Kajus Vainius
9B Shot Put – Sam Forth
8G Relay – Pankhurst
10G Relay – Madiba
8B Relay – King
12G 200m – Bella Featherstone-Dance
9B 200m – Kajus Vainius
10B 100m – Elliot Brown
9B 300m – Kajus Vainius
12G 100m – Bella Featherstone-Dance
9G 100m – Alice Talbot
10B 800m – Cody Martin
10G Long Jump – Liliana Lata & Aylin Yetkin
12G 800m – Bella Featherstone-Dance
7G Shot Put – Sofia Doughty
8G Shot Put – Kacey Smith
8B 1500m – Aiden Sadic
7G Long Jump – Emilia Mielniczuk
8G Javelin – Kacey Smith
7B 800m – Harvey Williams (equalled existing record)
7G 100m – Grace Paynter