Celebrating A Level results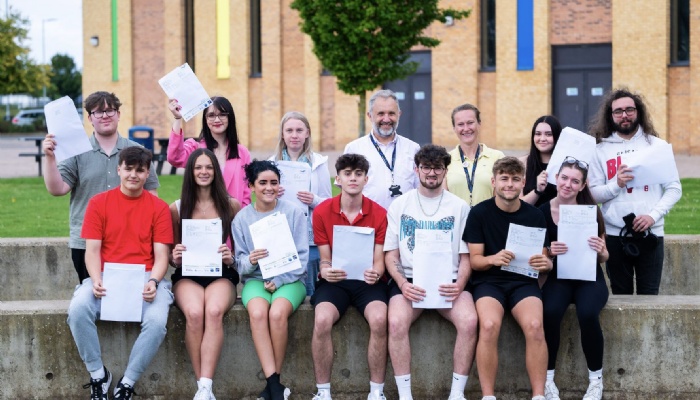 A group of A Level students celebrating their results today will have an 'amazing impact' as they head for teacher training.
They are among a cohort celebrating as the results were revealed this morning.
"The university courses these young people are undertaking show a wide range of interest and also ambition. We have students studying zoology, international business, linguistics and archaeology to name a few. We are also proud of the four students who are embarking on a career in teaching and the amazing impact they will have on future generations of children," said head of Sixth Form Alison Hornby.
And places at some of the country's top universities have been secured with offers from Warwick, Durham and Loughborough.
Among those celebrating is a straight A student who is returning to the academy in September to add another A Level, while hoping to gain hospital experience before reading medicine at university.
Goda Rinkeviciute, has achieved As in biology, chemistry and maths and is staying on to sit further maths. She is also hoping to get work experience in a local hospital before applying to university to read medicine next year.
Thomas Green is heading to Warwick University after achieving A*s in maths and further maths and an A in computer science.
Despite having two years of their school life disrupted by the pandemic, the group has achieved impressive results across the board in a range of subjects and academy Principal Mr Scott said he was extremely proud of their success.
"This group of students have every reason to feel proud of their achievements as their education was hugely disrupted by the pandemic. They have worked hard and shown their incredible resilience to ensure their results are what they need to move on to the next stages of their education or to start a career.
"Above all they have been a cohort marked by their caring, confident and inclusive nature which, along with their results, will serve them long into their futures."