Ellie is off to Cambridge after results phone call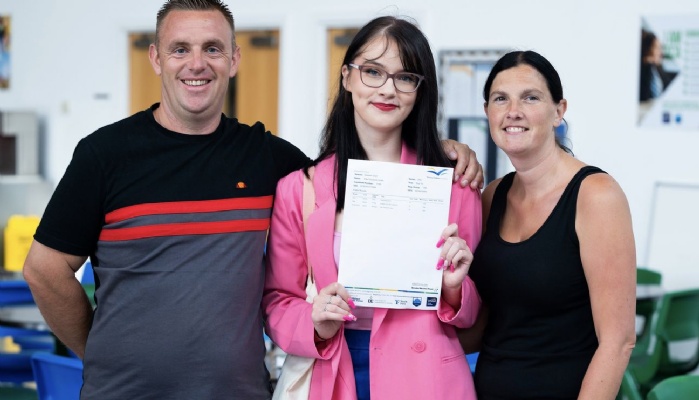 One of our students will be heading just down the road to Jesus College, Cambridge, thanks to her tremendous A Level results and a phone call.
Ellie Smith only she only found out after phoning in with her grades last Thursday, having already accepted a place at Durham University to read English.
The 18-year-old achieved an A in English literature, A* in film studies and psychology, and she was all set on heading northwards to continue her education.
Ellie had previously applied to Jesus College, Cambridge, and had an interview, but she heard nothing so assumed she was unsuccessful.
Having received her grades on Thursday (17) she phoned Cambridge again and told them what had happened, and within 24 hours the college had called back and offered her a place which she immediately accepted.
"She was so happy," said her mum Vicky, pictured with Ellie and dad Steven.
"It was brilliant and shows that it was worth a go as she had nothing to lose and was ready to take up her place in Durham. She had really wanted to go to Cambridge though, and was so happy when they made the offer."
The Wisbech teenager has ambitions to remain in academia.
"I want to be a professor of English - it's all I ever wanted to do since I was seven-years-old," she said.
Principal Mr Scott said: "We were all delighted that Ellie had done so well and were pleased she had secured a place at Durham - but then she told us that Cambridge had accepted her after all and we couldn't be more proud.
"Ellie has worked so hard to achieve her A Level grades and she very much deserves her place at Jesus College."