Celebrations for a great set of GCSE results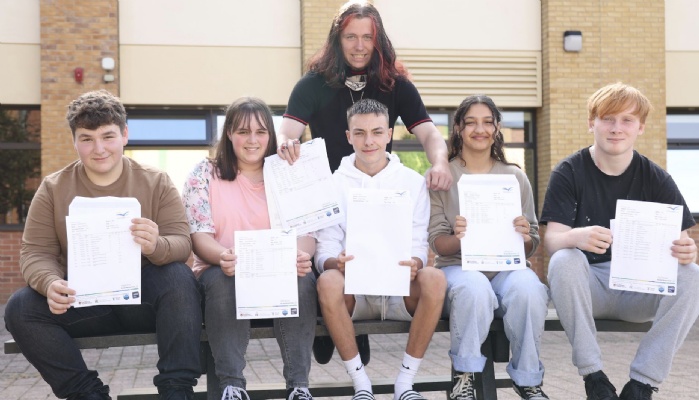 There were celebrations at our academy when students arrived to collect their GCSE results this morning.
Our building was buzzing when the Year 11 teenagers received a fantastic set of exam results which reflected their hard work over the last two years and more.

Principal Richard Scott said: "We have received another set of fantastic exam results, and I am incredibly proud of our Year 11 students who have worked so hard to achieve so much. These results are a credit to them as their education was also disrupted by the pandemic, but they continued to ensure they maintained a dedication to their studies. Our teachers and wider school community are also to be credited as our amazing staff continue to deliver learning of the highest calibre.

"The class of 2023 should be very proud of themselves and their achievements and we celebrate with them and their families on this landmark day for them all.
We wish the whole group nothing but success in their next steps and look forward to seeing many of them returning in September to continue their education with our Sixth Form."
Among the achievements of note was Lily Okon with five 9s, three 8s and Distinction*; Eva Remeikaite who achieved five 9s, two 8s, one 7 and a Distinction*; Callum Malkin who received three 9s, five 8s and a 7; Katya Haggett with a nine, three 8s, four 7s, a 6, 5 and 4; Maisie McCarthy with a 9, three 8s, two 7s, two 6s and a D2; Pawel Hajduk had a 9, two 8s, two 7s. a 6 and three 5s, and William Phoon with an 8, four 7s, two 6s, a 4 and D2.
Raising Standards Leader Kashaf Hussain said: "Our Year 11 students have every reason to feel a tremendous sense of pride. The outcomes they have accomplished have been incredible, both on an individual level and as a group, throughout a demanding year. Our students have shown not only their dedication but also their unwavering determination in the face of persistent educational disruptions due to the pandemic. As they go to study their post-16 courses, we extend our best wishes to all our students."