The sky really is the limit for our ambitious students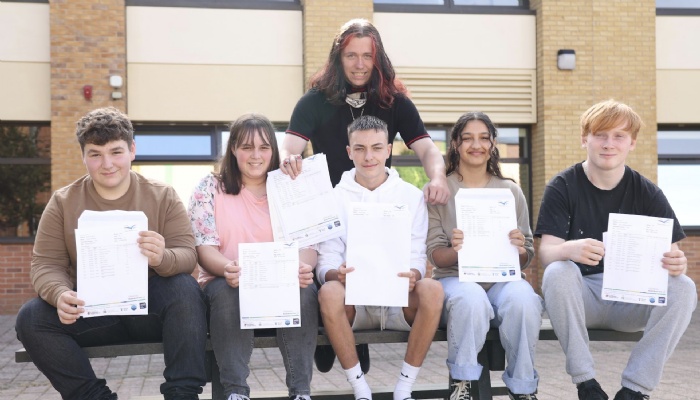 The group of students we pictured on GCSE results day are all heading in a different direction, but have all reaped the rewards of working towards their ambitions which range from a lawyer to a Para.
Student Flynn Dawson is aiming for the sky as he begins on a career path that he hopes will lead him to the Parachute Regiment.
Flynn achieved the grades he needed to be accepted at the College of West Anglia for its Public Protective Services course which is tailored to young people looking to be a member of a uniformed service.
Lewis Drew was really happy with his results which included a clutch of 6s, so he can go to Peterborough College for a course in sport science. He ultimately would like to train to become a physiotherapist within the sporting arena.
Emily Drew is heading for a course in animal care at the Wisbech campus of the College of West Anglia after she was awarded the grades she needed, including six 5s.
Michaela Balgova said she was relieved to have achieved the grades she needs to attend the College of West Anglia for her A Levels in English language and literature along with criminology and forensic science.
She has a career path mapped out to her goal of becoming a criminal lawyer.
Caleb Kelly is destined for a career in hospitality and will be studying professional cookery at the College of West Anglia in King's Lynn.
Jakub Benedyk said he was 'shocked' to have achieved results including two 7s and three 6s. He is also heading to the College of West Anglia to study computer programming.
"I really want to do something with computing in the future," he added.