Exploring art as therapy sees creative results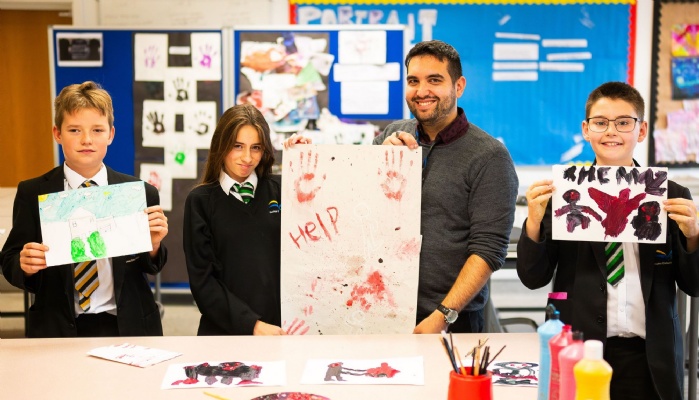 Exploring art as therapy is a new step being taken at our academy with the first participating students already getting creative.
Their work has been on display in the run-up to half-term, and there are plans to involve more students after the break so more can benefit.
"The main aim is to enable students to build confidence and improve and enhance their physical, mental and emotional wellbeing in a safe environment," said teacher Mr Ross.
"Fundamentally art therapy is about giving a voice and a way of communicating to those who may not be able to do so in more formal, or traditional ways. This different approach can build a child's confidence and give them a safe space to discover, develop and grow," said Mr Ross, who joined the academy at the start of term.
He has been working with students who have special educational needs and/or disabilities (SEND) but hopes to expand the provision to more year groups and students.
"It's early days, but the initial response from the children has been overwhelmingly positive, with many contributing to lessons and expressing themselves in ways they would find difficult in more traditional art settings," he added.
Ultimately, it's hoped the therapy can be rolled-out to all students, and when the academy returns after the break, the programme will already include another year group.
"This is the first time that I have had the opportunity to create something like this in a school setting. However, prior to joining the school, I have run private art therapy sessions," said Mr Ross, who is originally from Stratford-upon-Avon.
Mr Scott, academy Principal, said the new sessions were a valuable addition for students, and he looked forward to seeing more examples of their work.
"Our central space, Eden, is often home to displays of wonderful artwork created by our students, and it's really nice to see the addition of pieces by those using art as therapy. This opportunity allows our students to explore a different way of communicating, a vital tool for all of us," he said.