French Trip Highlights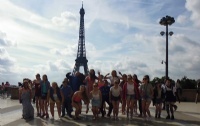 It was an action packed trip to France for our students who took in the sights of Paris and beyond.
It was an action packed trip to France for our students who took in the sights of Paris and beyond.
The Eiffel Tower, Arc de Triomphe, a cruise down the Seine and a chocolate factory tour were all on the itinerary for the group of students on the trip to the European country.
French teacher Clarisse Nijking, who accompanied the students along with fellow teachers Lucy-Beth Heighton and Ben Arrowsmith, said the trip had been a great success.
She said: "We left the academy on an early 6am start. After the ferry crossing, our first en-route visit was to the Nausicaa sea-life centre in Boulogne. Students enjoyed a sea lion show, watched a 4D movie about the need to save the environment, and saw lots of different seal life species.
We then headed to our accommodation and after an evening meal we had a Mini Olympics competition.
"On day two we headed into Paris. First stop was the Arc de Triomphe. Students had to brave 277 (tiny) steps up the monument, but it was worth it. Next, was the Eiffel Tower followed by a cruise on the Seine River. Then a visit to a Perfume factory where students learned how perfumes are made and how best to wear them. Then a visit to the popular Rex Cinema where students learned how movies are made. They had the opportunity to star in a movie as well.
"After a coach tour of Paris we headed back to our chateau hotel where students had a swimming session - which was a relief in the very hot weather,
"Day three was spent at the Parc Asterix where students enjoyed the many rides. The water rides were particularly popular as they kept us cool in the hot weather.
The evening activity was a fashion show in which students were tasked with creating designer clothing using bin bags only. Steve Rechetnyk Takam (Year 8) showed us great moves on the catwalk and his group won the competition. There was also a crepe (pancake) making session with students learning the classic French way to make pancakes.
"On day four we visited a chocolate factory and students learned the art of organic chocolate making.
"We later headed for Calais with the hope of arriving home at the scheduled time of 8.30pm. Unfortunately we got embroiled in a ferry strike just as we were about to board our ferry at Calais. We headed back to our accommodation and stayed another day before we managed to get a ferry home from Dunkirk."