Farewell to Mr Holmes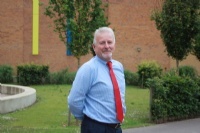 After 27 years of service Assistant Principal Jonathan Holmes is retiring.
After 27 years of service Assistant Principal Jonathan Holmes is retiring.
Mr Holmes will say goodbye on Tuesday (July 21st) after three decades of dedication to Wisbech's young people.
He said: "Teaching here has always been rewarding and challenging, but it has been a joy since 2006. There has been so much development and the school has totally turned around."
PE Teacher Mr Holmes has been a member of the Senior Leadership Team since 1992 and has worked under seven different heads.
He said: "When I look back on my career here, I realise the secret to my own individual success has been able to adapt to the different roles that were required. There have been some very difficult years for the school over the years, with pressures of inspections. But my commitment has always been to teach and to support our students."
He added: "Sport has always been hugely important to me since I was a school boy myself and over the years we have seen some of our young people reach a very high standard of sport.
"What I have enjoyed most is to see our students leave here prepared to find their place in the world."
Mr Holmes now works with many member of staff who he taught as students at the school. They are: Amber Doyle, Kayla Thrower, Alex Salmon, Claire Ziebart, Nathan White, Lucy Beth Heighton, Laura Buckenham, Krystal Humphrey, Nigel Glover, Leanne Robinson, Charlotte Burns, Thomas Thompson and Craig Tolley.
The father of two intends to head to the golf course in his retirement and support his children in their sporting endeavours. His son is a professional golfer, (currently competing in the PGA Europro Tour) and his daughter rows for Birmingham University.
Principal Clare Claxton said: "Jonathan has given a lifetime of service to Thomas Clarkson and its predecessor schools. Time and again he has shown unwavering commitment to the students of Wisbech, where others have chosen an easier path. He is a great PE teacher, a superb role model to younger staff and many years of timetables would not have been completed without Jonathan's skills. We all wish him well and will miss his crazy sense of humour!"
He said there is much that he will miss, especially students, colleagues and the daily journeys to work with long-time colleague and friend Gerwyn Williams.