Wisbech Reads Launches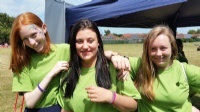 This weekend saw a huge celebration of reading take place as the Wisbech Reads initiative was launched
This weekend saw a huge celebration of reading take place as the Wisbech Reads initiative was launched.
Hundreds of pupils from across Wisbech Schools took part in the opening event which was held at Orchards Primary School on Friday (July 10th).
The children were able to meet authors, watch plays and take part in an exciting array of activities related to reading.
Julie Wilcox and the Drama Dept from Thomas Clarkson Academy provided entertainment, with singing and acting and an extract from their forthcoming production of The Secret Code.
The school library team was also involved, with the Library Ambassadors joining forces with Wisbech Library to find out everyone's favourite reads, give away books and to promote the Summer Reading Challenge.
Find out more about Wisbech Reads in local press or through the facebook page: https://facebook.com/WisbechReads
A free event for the community was staged on Saturday.
Tickets for The Secret Code can be purchased through the school. Performances are 16th and 17th July.
Report by Debbie Trafford