Introducing the New Head Girl and Head Boy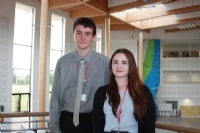 The new Head Boy and Head Girl have been chosen.
The new Head Boy and Girl have been chosen.
Year 13 students Beth Keeley and Austin Farr will be head of the Junior Leadership Team, which represents the student community and reports to the academy's Senior Leadership Team.
They were interviewed and selected by the outgoing Head Boy and Girl.
Austin, who is currently studying Physics, History, Media and Business said: "It is an honour to be Head Boy and I want to use this position to fairly represent students across the school."
Beth, who is hoping to study History and Sociology at university, said: "There are lots of things that we want to be involved in and I am really looking forward to the year ahead."
Head of Student Voice Sally Wilcher said: "It is hugely important that we have a Junior Leadership Team and representation to the Senior Leadership (staff) Team as it is the students' education and is obviously extremely important.
"It is a meaningful group as the SLT always acts on feedback, for example we changed our marking policy based on feedback from the Junior Leadership Team."