Passing Out Parade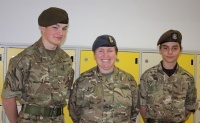 It's an important day today (July 15th) for cadet's Emanuel Malaquias and Kieran Barnard who are taking part in the first ever BWT Combined Cadet force Passing our Parade.
The students will take part in the parade at Corby Technical School at 2pm along with 18 other students from the Trust's other secondary schools.
They will be presented with their BWT CCF berets and then move into the second year and take on leadership roles.
It follows an exciting first year for the cadets who have just returned from a week-long camp at the British Army's Barry Buddon Training Camp
CCF officer for TCA Anne Rose, who has been involved in training the cadets said: "The cadets have had a brilliant year and learned so much. They have taken part in weapons handling, field and navigation exercises and been a real credit to TCA.
"I will be very proud to see them receive their new berets today."
The BWT CCF has been set up as part of the government Cadet Expansion Scheme, which aims to create more combined cadet forces in state schools. This year the Trust has partnered with the long established CCF at Oundle School and has now been declared ready for independence.
From September seven other students will be joining the BWT CCF. They are Matthew White, Michael Kirk, Jake Edgeley, Shelby Sage, Glen Jarvis, Victoria Jarvis and Kirsty Hamilton.