Historic Day for Brooke Weston Trust Combined Cadet Force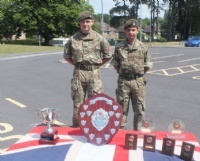 Two TCA students took part in the first event Brooke Weston Trust Combined Cadet Force passing out parade yesterday (July 15th).
Two TCA students took part in the first event Brooke Weston Trust Combined Cadet Force passing out parade yesterday (July 15th).
Kieran Barnard and Emanuel Malaquias joined 18 other students from across the Trust schools and received their BWT CCF berets marking the CCF's independence.
The BWT CCF was formed in September 2014 and throughout the academic year it has been working in partnership with the long established Oundle School CCF.
The CCF was set up as part of the government's Cadet Expansion Programme, which aims to create an additional 100 CCFS within state schools.
Throughout the academic year the 20 students have been involved in drill, field craft and navigation activities. The year was rounded off with an annual camp at the British Army's Barry Buddon Training Camp in Carnoustie, Scotland, with cadets taking part in a 36-hour field exercise.
Thomas Clarkson Academy student Kieran Barnard said: "I'm an Army Cadet outside of school and being part of the Trust's cadet force has helped me to enhance my skills.
"I've enjoyed taking part in the activities with my friends. It's also been a character building experience because we've met lots of students from the other schools who we didn't know before and we've all learned to work together."

TCA Principal Clare Claxton said: "Yesterday (July 15th) was a very poignant moment for the headteachers of the five Brooke Weston Schools. We made the decision to support the development of CCF about 18 months ago. Its instigation took a year to complete because finding and training the right staff in advance of selecting the cadets was very important. To see it all come to fruition in yesterday's passing out parade was tremendous. As for the TCA cadets that took part, their respectful demeanour whilst exuding confidence was a pleasure to see.
Estates and Facilities Director Matt Isherwood has set the BWT CCF up as Contingent Commander and been supported by other staff volunteers.
Second Lieutenant Isherwood said: "My fellow officers and I are extremely proud of the progress that our Cadets have made since September last year. The last week of our term provided the perfect opportunity for this inaugural generation of Brooke Weston Cadets, to hold their first formal independent parade. The finale to the parade included a 'passing out' ceremony, where the Cadets returned their Oundle School CCF beret in exchange for the beret and cap badge of our affiliated regiment, The Royal Anglian Regiment.