Celebrating ground breaking A Level results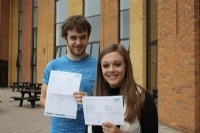 Our students have recorded the Academy's best ever set of A Level results.
86 per cent of Year 13 A Level students gained three grade A*-E grades, a rise of 19 per cent on last year.
20 students from the Sixth Form have automatically gained their university places after doing well in their exams.
Principal Clare Claxton said: "We are delighted, as all but a small handful of our students got the results that they needed.
"This is the first time that our Sixth Form has stood alone following our former partnership with the College of West Anglia – who we are thankful to for helping us to set up.
"The students have worked really hard and that hard work has paid off for them.
"Results have been good across the range of subjects which demonstrates the great teaching expertise we have here at TCA."
There was particular success at BTEC Sport, with a significant number of students gaining distinction stars and excellent results in Maths and Science.
Stacey Pitcher and Euan Wedge are celebrating after getting the grades they needed to head to the university of their choice.
Stacey, who is going to UEA to study Psychology, achieved an A grade (Psychology) and two B grades.
She said: "I only decided at the last minute what course I wanted to do as I had a number of options but I am delighted as I have always wanted to go to UEA. I have worked really hard for these results and have had fantastic support here from teaching staff."
Euan is studying Chemistry at Loughborough after gaining two Bs and a C.
He said: "I was fine with nerves until last night but then they kicked in.
I logged onto UCAS first thing this morning and knew I had a place on the course I wanted so when I arrived at school I was already happy. When I opened by results envelope I was happy with the grades. I am now excited for going to university."
Mayra Brandao and Akshay Kishor both gained 2 A grades and 2 B grades and have hopes of a career in medicine.
Elle Bishop-Saunders is going to study photography at the University of East Anglia. She said: "I got 2Bs and a C, and although I was hoping for higher I am really pleased."
Jamie-Lea Taylor is going to the University of Arts London to study photo journalism.
She said: "I am so happy that I got into the university that I had hoped for. It is in central London, so it will be expensive but I have been working over the summer to save some money."
Rebeka Luzaityte is going to the University of Western Scotland in Glasgow to study journalism after gaining 2 A grades, a B and a D.
Thomas Norman can now apply for a local design engineer trainee scheme after achieving the needed grades.
Hannah Loughlin and Gabriele Radzeviciute are both heading to Bangor University to further their studies. Hannah will study chemistry and Gabriele is going to study geography.