Miss Anderson Completes Great North Run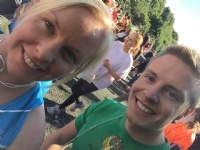 PE teacher Amy Anderson took part in the famous Great North Run last weekend.
Miss Anderson joined her brother Craig to run the half marathon event in Newcastle on September 13th in memory of her Nanna who died last year.
Together they raised almost £500 funds for the Alzeheimer's Society.
Miss Anderson said: "My Nanna passed away on the day of the Great North Run last year, so my brother and I decided to run it this year in her memory.
"It was a really hot day and I was happy to complete the run, although took a bit longer than I had hoped, 3hr 10 mins.
"The spectators around the course were amazing, handing out jelly babies and water.
"I saw Denise Lewis around the halfway mark, Tani Grey-Thompson handing out water at a water station and Jo Pavey at the beginning of the race."