Students receive rave reviews for their original film score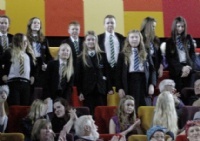 A group of talented music students have created an original musical score for a film about WWII evacuees in Chatteris.
A group of talented music students have created an original musical score for a film about WWII evacuees in Chatteris.
The film Home From Home was premiered at the Light Cinema in Wisbech earlier this month and has received rave reviews.
Principal Clare Claxton said she was extremely proud of the students, who became involved in the Heritage Lottery funded film after being approached by the production company.
In October the Year 8 band students were given a copy of the film script and then tasked with deciding which parts to write music for and what sort of music to compose. The endeavour will go towards the students Bronze Arts Award.
The student composers were: Libby Drake, Chloe Garner, Kirsty Hamilton, Charles Jepson, Brad Kirby, Justina Kakstyte, Crystal Ling, Dominyka Marcinkeviciute, Abbie Markillie, Louise Peart, Harry Preston, Chloe Penn, Sage Shelby, Bethany Reach, Rudolf Simkuns, Steve Reshetnyk Takam, Megan Smith, Joshua Watson, Amy Woodham and Katrina Sudovceva.
Joshua Watson said: "I created a piece of music for the air raid shelter. All of us got to play about with music and have a fun time."
Harry Preston said: "I made an intense fast sort of motif. I just used a keyboard and played around for a bit and eventually I found something that worked."
"I learned that anything is possible to do if you just try."
Music teacher Gayna O'Rourke said: "Students have really enjoyed composing music for film and found the experience of watching their own original music bringing to life on screen action amazing! Students have received many compliments from other participants saying what a huge difference the music has made to the mood and atmosphere of the movie.
She added: "The finished film is an important historical piece of work, and has brought the plight of the evacuees to life for many members of our younger community."
The film was written by local writer David Johnson who worked with Chatteris Youth Theatre. It tells the story of five evacuees who were rehomed in the town. The film idea was led by the Cambridge County Council and the Young Fenland Cultural Consortium and involved a number of organisations. It was funded by the Young Roots programme of the Heritage Lottery fund.
Tim Nightingale, of 20Twenty Productions who made the film, said: "This was a fabulous project to be involved with.
"Filming was great fun and we are really grateful to the Ramsey Rural Museum and 1940's camp for providing the set and props.
"The young people worked really hard, and above all learnt a lot more about what it was like to live in a rural town during the war."
The film will be part of a primary school resource pack which supports the legacy of the project.
There will also be an exhibition at Chatteris Museum open from Saturday 30 January.
Two further free-of-charge showings of the film will take place on Friday 12 February at the King Edward Centre, Chatteris, from 6pm, and on 24 February at March Town Hall from 2pm.
To book in advance due to the limited amount of spaces, contact Harry@20twentyproductions.co.uk or call 01354 652 769.
Listen to our students talk about the project to Radio Cambridgeshire here