Students World Record Attempt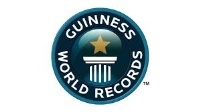 Year 8 students took part in an attempt to break a world record yesterday. (February 22nd)
Year 8 students took part in an attempt to break a world record yesterday. (February 22nd)
The entire year group joined forces with thousands of others across the country to take part in the record attempt for 'the most people participating in simultaneous book quizzes in multiple venues'.
It was organised by the World Book Day charity and our students will find out if they are record breakers on World Book day on March 3rd.
Librarian Debbie Trafford said: "This was a terrific way to encourage students to have an interest in books and reading. Guinness World Records is one of the most popular books in the library – the students were very excited to have the opportunity to be part of one of the records.
In order to set this all-new record, a minimum of 2,679 individuals were required to register and take part in the quiz for at least 30 minutes between 2pm and 3pm on Monday.
The event was officially witnessed by Jakki Racey from Cambridgeshire Public Libraries and Margaret Barwell of Wisbech Rotary Club. There were also six stewards – all from Wisbech Rotary Club.
This quiz is just one of the ways TCA is celebrating World Book Day this year. Other activities include: Year 7 will be creating book trailers, all our students will be encouraged to take part in the Wisbech Reads Family Quiz and staff will once more be dressing up as book characters for the day on March 3rd.Please enter some content for your news story here