Expedition for Duke of Edinburgh Award students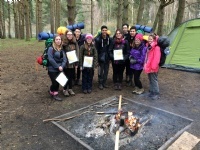 Ten students have taken part in their first Duke of Edinburgh (DofE) Bronze Award activities.
Ten students have taken part in their first Duke of Edinburgh (DofE) Bronze Award activities.
The students took part in a practice expedition in Thetford forest and hiked an average of 12km a day, carrying all their food and equipment.
The exercise was the culmination of weekly DofE Awards training during Session 6 in which the students have been learning how to map read, route plan and navigate in outdoor terrain.
They have also been taught how to use outdoor equipment, first aid techniques and general expedition safety.
The students who took part were: Aaron Ganger, Ashleigh Ward, Daniel Putterill, Finn Grew, Hollie Parker, Chloe Collier, Nirvana Wuerzburger, Annabelle Holmes, Alyx Haines and Emilia Reeves.
DofE coordinator for TCA Lucy Heighton said: "The weather was great with regards to precipitation. "However, March temperatures meant that overnight was a little cold! As outdoor enthusiasts we regularly state that there is no such thing as bad weather, just bad clothing!"
She added: "DofE is arguably the best scheme a young person can get involved in as a teenager and into young adulthood. The scheme provides a balanced programme which gets students involved in physical, skill and voluntary activities in addition to the team building, self-sufficient expedition. It provides opportunities for students to learn valuable life skills and is regularly identified as the most highly regarded achievement second only to academic qualifications."
The group will take part in their assessed expedition at Rutland Water in Leicestershire in June.
Meanwhile the Silver DofE expedition group will be taking part in their two night practice expedition to Cannock Chase in Staffordshire at the end of the month. The expedition will involve trekking 22km each day.