TCA students triumph at BWT Sports Awards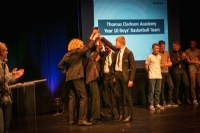 Thomas Clarkson Academy students picked up four awards at the first ever Brooke Weston Trust Sports Awards.
Thomas Clarkson Academy students picked up four awards at the first ever Brooke Weston Trust Sports Awards.
Students Jo Clifford, Piper O'Neill, Charlotte Cameron and the Year 10 Boy's basketball team all triumphed at the inaugural awards which were held on Friday night (May 6th) at the Core Theatre in Corby.
Hundreds of students and parents from the ten BWT schools attended the awards ceremony in which young people from Key Stage 2 to Key Stage 4 were recognised for their commitment.
The basketball team won Key Stage 4 Team of the Year, Jo Clifford won the Key Stage 3 Participation and Achievement Award, Piper O'Neill won the BWT Sportswoman of the Year Award and Charlotte Cameron won the same award in the Key Stage 5 category.
Jo was awarded for her dedication to football and rounders despite medical conditions; Piper plays for Peterborough United and has this year scored 14 goals in 10 games for the TCA Year 7 girls football team; Charlotte is a current world champion in kickboxing and the Year 10 Boy's basketball team won the county championships.
Altogether 18 awards were presented by special guests Chair of the Youth Sport Trust Baroness Sue Campbell and former BMX World Champion Mike Mullen.
BWT Director of Sport Kirstie Smith said: "It was a great evening and a real celebration of the sport that happens across our Trust of ten schools.
"As a Trust we recognise the importance of sport in young people's lives and what it does to enhance well being, build confidence and teach team skills."
TCA Principal Clare Claxton said: "This was a superb event where Kirstie Smith clearly articulated the need for outstanding PE and sport within the Trust because of the value sport brings to the life of our young people. I was immensely proud of all the students from Trust-wide schools but I couldn't help clapping loudest for the TCA students who won awards! All in all it was a great night for Brooke Weston Trust and I hope this will become an annual event."
During the evening all nominees were invited onto the stage and the audience were told about their sporting achievements.
There were also messages of support and congratulation from the stars from the world of England Rugby and BMxer Mike Mullen demonstrated a trick with Executive Principal John Henrys.
TCA dance troupe inspire also performed and throughout the evening the BWT Sports Ambassadors assisted with duties, helping students and parents to their seats and providing support to the awards organisation team.