TCA students meet HRH Prince Edward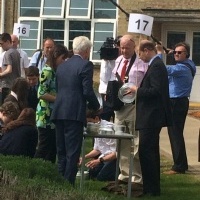 Students who are part of our Duke of Edinburgh Awards Scheme (DoFE) met HRH Prince Edward as part of the Diamond Anniversary celebrations for the youth scheme.
Annabelle Holmes, Finn Grew, Emilia Reeves and Alyx Haines joined teacher Lucy Beth Heighton at the event at Bottisham Village College in Cambridgeshire along with other young people from DofE local DofE schemes.
The students took part in 20 mini activities such as putting together a Trangia Camping Stove and stuffing sleeping bags. All four of the students will now receive their Diamond Challenge badge.
Miss Heighton said: "These events have been happening across the country and it was a privilege to be part of the Cambridgeshire Diamond Challenge. We joined other DofE centres from around the county and it allowed the students to see the wider community they belong to by participating in the DofE Award Scheme."
The students also met TV present Philip Scofield who was accompanying Price Edward for a document being filmed about the awards scheme.
DoFe was founded by HRH The Duke of Edinburgh in 1956 and is available to 14 to 24 year olds. The programme was founded to equip young people with a do-it-yourself kit of life skills.