TCA students filmed for Wisbech Reads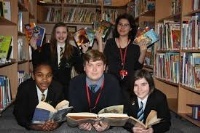 Please enter an introduction for your news story here
Thomas Clarkson Academy students appear in a new promotional film for Wisbech Reads.
Our book mad students have been saying just why they love reading in the film which has been made to promote the reading initiative Wisbech Reads, which was launched last year.
Supported by various local bodies, such as the Fenland District Council, the library service, MP Steven Barclay and local schools, the scheme was set up to raise literacy levels across Wisbech.
Librarian Debbie Trafford, who also appears in the film said: "In schools we are always encouraging children to read but reading is of course for everybody. What a world of pleasure there is in books. For families to get together and share that pleasure and for the community to get together is why we are so pleased to be part of Wisbech Reads."
A number of events are taking place in the coming weeks as part of the scheme.
On 5th June there is a family celebration of Eastern European stories at Wisbech Library from 10am.
On Monday, July 4th the Wisbech Schools Festival is being hosted and on Saturday, July 9th it is the Wisbech Open Festival for the whole community.
To find out more contact visit the Wisbech Reads Facebook page.