TCA hosts county book awards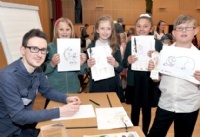 TCA students joined hundreds of pupils from across the county to vote in this year's best children's picture book.
TCA's Act Theatre had the honour of hosting the 11th annual Read it Again! Awards, which celebrates a debut book by a new author.
This year's winner, which was voted by 12,000 Cambridgeshire children was Super Happy Magic Forest by Matty Long.
The writer was one of five shortlisted authors who attended the event and he even drew a special illustration to say thankyou to TCA, It will be displayed in the library.
Organsier Louise Aldridge from Cambridgeshire Public Libraries said: "The venue was perfect, and the support we received from all the TCA staff and students involved was quite wonderful.
Librarian Mrs Trafford's Library Ambassadors were a credit to the school; the care they took of the primary school children, their teachers and our guests made everyone feel so very welcome."
(Image from the Wisbech Standard)