Fantastic Wisbech Reads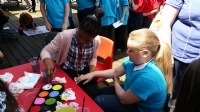 Thomas Clarkson Academy students joined with thousands of primary pupils across the town for the launch of this Year's Wisbech Reads Festival.
A number of our talented students both helped out and performed at the event held at Orchards Primary School on Monday (July 5th).
There was a huge variety of literary themed activities at the event which is aimed at celebrating and promoting reading across the town.
This is the second annual event and there will be a town-wide Roald Dahl themed celebration on Saturday.
Teacher Crystal Keet said of Monday's event: "Wisbech Reads was a great success and we have to thank the fabulous TCA student volunteers for their part in it! The Young Interpreter Club, along with help from local primary teachers, told and acted out multilingual children's stories in a grand way. The Library Ambassadors worked with the Public Library and Children's Centre staff to lead children in face painting and reading activities. And our school choir sang wonderful songs to a packed audience. Well done all and keep reading!"
On Saturday (July 9th) there will be a series of workshops and fun events across the town. The event starts at 10am with the opening of the reading tree in Wisbech market place. Then there is a there is then a parade to St Peter's Church led by Orchards Street dance crew.
From 10.30am there is a series of workshops and theatre shows on a rolling programme with information guides to point parents in the right direction.
There is also a Roald Dahl fancy dress contest with prizes, music, fun inflatable, shows, poetry and story sacks as well as drop in art sessions, a reading dog and a reading cafe.
There are bilingual story sessions and illustration workshops.
Read more about it on the Wisbech Standard website here