Staff hiking Hadrian's Wall in mammoth charity challenge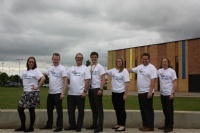 A team of seven staff are trekking the length of Hadrian's Wall as part of a charity fundraiser this summer.
The six day challenge is being done as part of the Diamond anniversary celebrations for the Duke of Edinburgh's Awards (DofE) scheme. Throughout the year the team, led by TCA's DofE coordinator Lucy-Beth Heighton (pictured far left) have been accompanying students on their bronze and silver DofE expeditions and now it is their turn.
They set off on Saturday, July 23rd and will be walking approximately 15-18 miles a day across varying terrain while carrying a 65litre back pack. They are doing the challenge to raise funds for Age UK.
Miss Heighton said: "This is quite a daunting task for the team. Eighty six miles from east to west is hard enough without carrying all the equipment to be self-sufficient for a week. But Age UK is a charity close to my family's heart, following the loss of my Father last August. The charity do immeasurable work providing care, companionship and advice to our elderly community and we are glad to be able to support them in this way."
Other team members (left to right) are Nigel Glover, David Bliss, Dan Hudson, Alex Malcolmson, Jeff Wilson and Alistair Woodruff.
The wall was built in 122AD and is the most popular tourist attraction in Northern England and a designated world heritage site.
The team have a just giving page and to sponsor them please visit https://www.justgiving.com/fundraising/LB-Heighton