Smiles all round on results day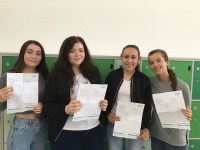 Thomas Clarkson Academy students are celebrating after securing the A Level grades needed to either go on to university or gain an apprenticeship.
The next steps towards careers in marine biology, criminology and teaching are all now being made after our hard working Year 13 students gained some fantastic results.
Students will be heading to well respected higher education residences such as the University of East Anglia, Lincoln University, The University of Essex and Bedfordshire University.
Principal Clare Claxton said: "There have been year on year improvements since 2014 when Thomas Clarkson took on responsibility for its own sixth form and is a great testament to the hard work of both staff and students. Good grades were spread across many subjects but there were notable successes in Maths, Performing Arts and Sport."
Student Brodie Wedge is going to study Maths at the University of East Anglia after gaining A* in Maths, an A in further Maths and a D in Physics.
He said: "It has been hard work as the Maths course was all exam based, but I am thrilled with my results. I have always really enjoyed Maths and am not sure of what career I will go onto as yet."
Albert Smith will be realizing his dream and studying marine biology at The University of Essex after getting the grades needed.
He said: "I am so thrilled, as this course is one of the best of its kind in the country. There is also a year abroad and I hope to go on to become a marine biologist."
It's a PE and Sport degree for Casey Ward who gained B and C grades.
Ellie May Cullen and Bethany Edwards are both off to Lincoln University to study Sociology (Ellie May) and sociology (Bethany).
Bethany said: "I am so happy. I logged onto UCAS this morning and saw that I had been accepted to my course. But I wanted to get my results in case it was a glitch!"
Kelley Morris will now go to Nottingham Trent University to study criminology.
The average grade was C+ and achievement (A*-E) being 97.3%. Those scoring A*-B was 81%, a huge improvement compared to last year's figure of 57%.
AS results were also much improved with achievement (A*-E) at 87% compared to 66% last year.
Head of Sixth Form Jess Smith said: "I'm absolutely delighted with this years results. I am particularly pleased with the huge 22% increase in AS pass rate and the fact that 100% of our year 13 students met the required grades of their UCAS offers. I am extremely proud of all students and staff involved for their fantastic efforts resulting this great achievement."